It had been long rumoured in political circles that the Green Party chair and Dublin Lord Mayor, Hazel Chu, wanted to run in next month's Seanad by-elections.
However, the manner in which she became a candidate has managed to surprise.
In a letter explaining her thinking, the Lord Mayor said it was a "personal choice" to stand for the Industrial and Commercial Panel and her motivation was that "it is important to have women and minorities represented".
Few could argue against the need for more diversity.
On the same day, the academic Claire McGing posted a tweet saying: "If you took every woman TD elected in history and placed them in the Dáil chamber, there would still be 28 vacant seats left."
However, what was surprising about the Green Chair's announcement was that her party executive had already determined that it was not going to nominate a candidate or endorse any candidate.
Eyebrows were also raised by the fact that her nomination was backed by five Green Party TDs, including the deputy leader Catherine Martin, as well as a Green Party Senator.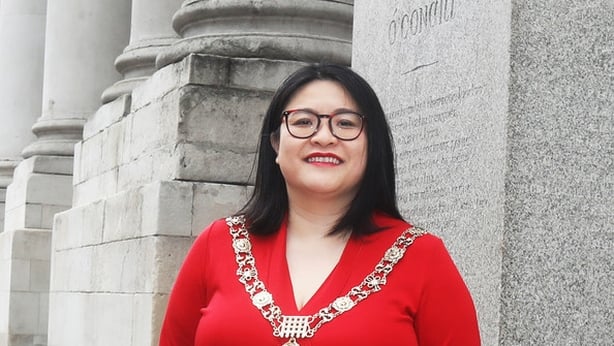 One of those to back Ms Chu's candidacy was Green TD Joe O'Brien.
He told me he spent "many years" encouraging minorities to "run for election" and he wanted to assist her getting on the ballot given the "very closed nature" of the Seanad elections.
At the same time, however, he feels it's "important" that the Government wins the two by-elections and this can be "best achieved" by backing the Fianna Fáil and Fine Gael candidates, which he intends to do.
That sentiment, facilitating Hazel Chu's candidacy but not backing the candidate, was echoed by the Independent Senator Lynn Ruane.
She said: "I did sign [her] nomination forms, but am committed to voting for non-Government candidates."
Another backer, Independent TD Marian Harkin, said she believes in "giving people a chance".
However, there is by no means universal support for this approach within the Green Party.
Two long-time members opined that the optics were "awful" and unnecessarily revealed a deep division within the party.
Fianna Fáil sources were "not surprised" at yesterday's announcement, but felt that it probably "won't change the arithmetic" of the election, as "good co-operation was expected" between coalition members.
A senior Fine Gael member of the Dáil described the situation as "unusual" and felt, from the outside, it gave off the perception that there was a "cabal" within the Green Party.
However, they added that it was a "worrying" in the context of the coalition's longevity given the "hard decisions" that are coming down the road.
These by-elections were triggered by the resignations of Fine Gael's Michael D'Arcy from the Agricultural Panel and Sinn Féin's Elisha McCallion from the Industrial and Commercial Panel.
The electorate will be the members of Dáil Éireann and Seanad Éireann, with ballot papers being issued on 7 April and the polls closing at 11am on 21 April.
Ms Chu's candidacy on the Industrial and Commercial panel poses a direct challenge to the Fianna Fáil candidate, and former senator, Gerry Horkan.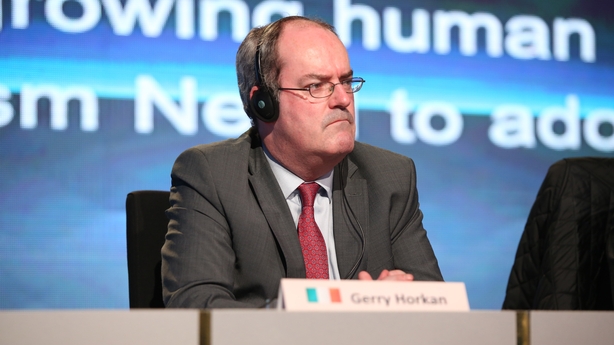 Fine Gael is not standing a candidate in the panel due to an electoral deal with Fianna Fáil, which enables its former senator Maria Byrne to stand uncontested, from a Government perspective, on the Agricultural Panel.
Just to add to the uncertainty, Sinn Féin is not running a candidate on either panel.
The party is due to support the Co Armagh famer, with a Unionist background, Ian Marshall on the Agricultural Panel.
Sinn Féin has yet to decide who it might back on the Industrial and Commercial panel.
Labour is running candidates on both panels - Cllr Angela Feeney from Maynooth in Co Kildare and Ciarán Ahern from Rathfarnham in Dublin.
The Social Democrats are not contesting the by-elections, but other Independent candidates are.
There is a feeling within Government circles that the coalition should win both Seanad seats, even if every election campaign has its own dynamic, and therefore nothing is guaranteed.
One Government member of the Seanad described the Chu candidacy as "bizarre but unsurprising" given the Green Party is "as divided as ever".
However, they were sanguine about things, for the moment: "As long as the six [Green TDs and Senator] transfer to Gerry Horkan, I don't think there will be any lasting damage."
But if they don't, if Hazel Chu should win, then things will get very interesting very quickly.