Female politicians have called for wide-reaching legal and constitutional reforms to ensure all women in politics are guaranteed paid maternity leave after the Government confirmed Minister for Justice Helen McEntee will take six months' leave from April.
Coalition and Opposition politicians said the welcome decision in support of Minister McEntee should be mirrored in all levels of politics - with one TD saying she was asked for a "sick cert" when she had a baby shortly after being elected to the Dáil.
Yesterday, Taoiseach and Fianna Fáil leader Micheál Martin told the Dáil that Minister McEntee, who is pregnant with her first baby, would be allowed to take six months of paid maternity leave from 30 April.
During that time, she will remain as a Government minister without a portfolio.
Fellow Fine Gael TD and Minister for Social Protection Heather Humphreys will temporarily replace her for the six-month period.
"It's actually incredible that we're in 2021 and we have no provisions for paid maternity leave".
The Taoiseach said an ambitious new plan for maternity leave would be discussed in the future and that the issue will form part of the Citizens' Assembly on Gender Equality.
However, the fact there were legal and constitutional questions over whether Minister McEntee, or any other person, could take paid maternity leave, as the Constitution did not consider the possibility a female politician could be a minister when it was written a century ago, has led to demands for a faster pace of change.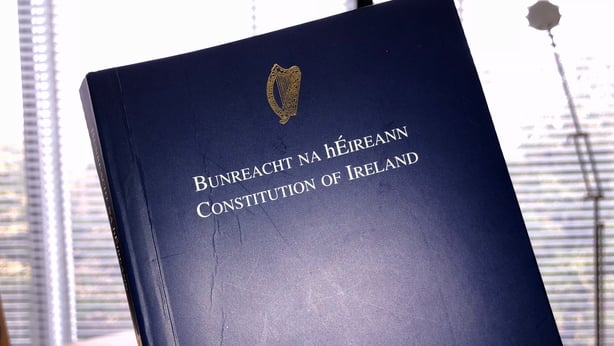 'I returned to work two weeks after I gave birth'
Speaking to RTÉ's Morning Ireland, Fianna Fáil TD for Cavan-Monaghan Niamh Smyth said Minister McEntee has "set a precedent" and female politicians should no longer be expected to "bounce back to work" a week after giving birth.
Ms Smyth added that when she had her first child shortly after being elected to the Dáil for the first time in 2016, she was told to provide a "sick cert" - saying it underlines the lack of system support for female politicians who are mothers.
"Back in 2016 when I was newly elected myself, I also had the life-changing experience, if you like, of giving birth to my daughter. So it was a pretty overwhelming time in the sense of being a first-time TD and a first-time mum.
"And with that came the surprise and shock perhaps that in Dáil Eireann I was expected to provide a sick cert in terms of my maternity leave. And for that reason I returned to work two weeks after I gave birth.
"Minister McEntee has now set a precedent. It's now acknowledged it's not acceptable that a female politician, when she has a baby, bounces back to work the next week. However, this is a starting point and only a starting point," Deputy Smyth said.
Sinn Féin TD for Carlow-Kilkenny Kathleen Funchion also told the programme that systemic changes are needed in the aftermath of the situation surrounding Minister McEntee, saying while the decision is "very welcome" all women must be similarly supported.
"It's actually incredible that we're in 2021 and we have no provisions for paid maternity leave, so I think that this is very, very welcome.
"I had two elections where I was pregnant and I would have definitely considered calling it a day just with the juggling of family life and the job.
"I think it needs to be looked at broader, to ensure that the system works, that they do get a proper maternity leave and it's not just like a maternity leave on paper," Ms Funchion said.
'Long-term solution' needed
A third politician, Green Party councillor and cathaoirleach for Dún Laoghaire Rathdown County Council Una Power, also told RTÉ's Morning Ireland a message must now be sent to younger women who are in politics or are considering entering the field.
Cllr Power said the resolution to help Minister McEntee is "welcome" but "ad hoc", insisting a "constitutional review" is now needed to "bring about a sustainable and long-term solution".
"I think it's a really welcome step in the short-term, but I think in the long-term a lot more needs to be done.
"This isn't a sustainable step, it's very much an ad hoc approach, and while it's very welcome for the minister, we need to look at approaches that will allow for ministers, TDs, councillors to have ways to plan and organise their lives when they're expecting babies.
"We commit as councillors to five-year terms, as TDs for up to a five-year term.
"It's a lot of time and it is a big impact on those kind of years in 20s, 30s. We really need to be looking at constitutional reviews on how to bring about a sustainable and long-term solution," Cllr Power added.