The Independent Senator Michael McDowell has been asked by the Minister for Foreign Affairs and Trade, Simon Coveney, to delay a Seanad debate on the detention of Irish man, Richard O'Halloran, as negotiations are at a "delicate stage" and such a debate could "set that process back".
Senator McDowell told the Seanad this morning that he is giving the Minister a two-week deadline, otherwise he will press ahead with plans to debate the matter in the Upper House.
Richard O'Halloran, an Irish citizen, has been in China since February 2019. He had travelled there to resolve a dispute between his employer and Chinese authorities but has since been detained. Mr O'Halloran works for the aircraft leasing company, China International Aviation Leasing Service (CALS Ireland).
Mr McDowell said that he received a phone call last week from Mr Coveney, asking him to delay the debate. Senator McDowell said that he regarded any such request from a Minister very seriously, and so he obliged.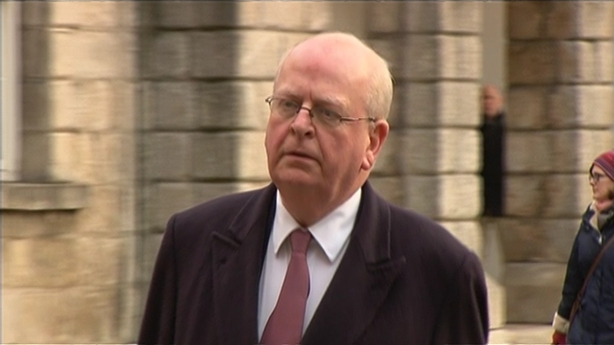 Mr McDowell told Senators: "No Chinese citizen would be treated in this way in this country and the comparative size of our two countries doesn't justify wolf diplomacy being deployed against Ireland."
"I'm affording a two-week opportunity to the Minister to produce results in this matter" and warned that he would move to have the Seanad debate if the issue of Richard O'Halloran's release was not secured in that time.
In a statement to RTÉ News, the Department of Foreign Affairs and Trade said that it continues "to provide all possible consular support and assistance to Mr O'Halloran and attaches the utmost importance to his welfare".
"The case has been raised regularly at senior political and diplomatic level with the Chinese authorities. These engagements have emphasised the humanitarian aspects of the case, and the importance of Mr O'Halloran being allowed to return home as soon as possible," said the statement.
The statement went on to say that Mr Coveney remains "actively and personally engaged, and senior officials in Dublin, Beijing and Shanghai continue to do everything possible to ensure that Mr O'Halloran can return home, while his legal team seek to resolve outstanding legal issues. Consular officials are in ongoing contact with Mr O'Halloran's family, and his advisers in Ireland".
Min Jiedong, the chairman of CALS Ireland, is in jail following allegations regarding the defrauding of Chinese investors through a peer-to-peer and crowdfunding scheme to buy an aircraft. Both schemes pre-date Mr O'Halloran's arrival at the company. There are no allegations of wrongdoing against Mr O'Halloran.
Mr O'Halloran, whose wife and four children remain in Dublin, has been asked to pay €36m to secure his release and the Chinese Public Security Bureau is demanding that CALS Ireland return an aircraft that is now leased to a European airline.