Minister for Foreign Affairs Simon Coveney has said mandatory quarantine for those travelling into Ireland would be "much more difficult to do than the benefit that it would derive".
But he said the Government was considering the possibility of introducing mandatory quarantine for those who have arrived in Ireland without a valid PCR test.
He said they were also looking at the potential use of increased visa requirements to travel in to Ireland from countries that are reporting new variants of Covid-19.
Minister Coveney was speaking on RTÉ's News at One amid increasing pressure on the Government to introduce mandatory quarantine for travellers coming into the country.
Earlier, Deputy Chief Medical Officer Dr Ronan Glynn told the Oireachtas Health Committee that National Public Health Emergency Team (NPHET) had previously asked for mandatory quarantine for international travellers.
However, he said that NPHET "are not the experts on what is possible", but that travel still poses a very serious risk to the suppression of the disease and should be avoided.
Minister Coveney said there has been "strong compliance" with the PCR test requirement to enter Ireland.
"We don't have legal entitlement to hold someone in the airport indefinitely," he said.
He said Ireland "took a much more cautious approach to international travel than most other EU countries in the second wave".
Minister Coveney said "it would be ideal" for the EU to move in concert on international travel.
"But at the moment we can't even move in concert on this island north and south together.
"We would like ourselves and our counterparts in the executive in Northern Ireland to also be doing more together in terms of international travel because of course it's still possible to fly for example from London into Belfast, and to drive down south across the border."
Guidance for those who have recently arrived in Ireland from Great Britain, South Africa or Brazil https://t.co/m4wrFw5sNJ pic.twitter.com/Bj0CpsA9WT

— HSE Health Protection Surveillance Centre (HPSC) (@hpscireland) January 22, 2021
Mr Coveney also said he believes the annual visit of the Taoiseach to the White House for St Patrick's Day will be able to go ahead, "while being sensitive to public health perspectives".
He said he expects "a very close and detailed interaction" between the Taoiseach and the US President "over that period".
"We will have to figure out how to do St Patrick's Day this year, safely.
"We will reach out in the most appropriate way we can and the most impactful way we can obviously while being sensitive to public health perspectives in terms of a global pandemic."
Minister Coveney said it was too early to say whether the current restrictions will be in place until St Patrick's Day.
He said "we can't ease restrictions" as long as there are over 2,000 positive Covid-19 cases per day, and as long as the Irish health system remains under the current pressures.
"We will give as much certainty as we can next week Tuesday after Cabinet. We just don't know how the strains that are in Ireland at the moment are going to behave. We don't know how successful the current restrictions will be in February, in terms of reducing the numbers.
"What we do know is that as long as we have over 2,000 people testing positive per day. And as long as our health system is under the pressure that it's under right now, we can't ease restrictions. And I think we need to be honest with people on that."
---
---
Earlier, Dr Glynn told the Oireachtas Health Committee that the regime in place at the moment for incoming passengers will not stop all cases of Covid-19 coming into this country.
He said the advice of NPHET is that the "discretionary elements of travel need to be addressed to the greatest extent possible".
Dr Glynn said that mandatory quarantine could be one solution, but there may be other ways that he is not privy to.
He was responding to Sinn Féin's Health spokesperson David Cullinane, who asked if NPHET was in favour of mandatory quarantine for international travellers.
When asked about mandatory quarantine, he said he was in favour of any measure that helped suppress the virus.
"We want any measures brought in which will suppress this down to levels we saw last June."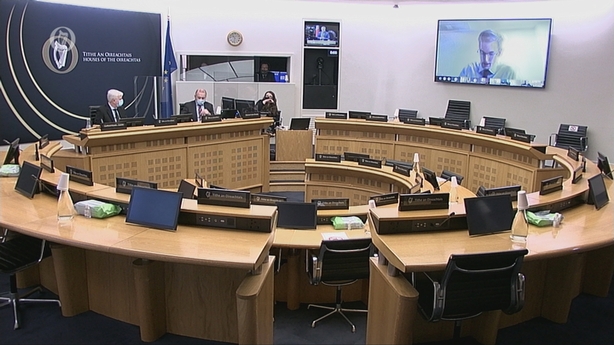 Dr Glynn also told the committee that much more progress must be "achieved and sustained" over the coming weeks to bring the coronavirus under control.
He said that even though case numbers are reducing, hospitals will remain under intense pressure for some time.
He said NPHET is monitoring three variants of the virus - first detected in the UK, South Africa and Brazil - and warned that some mutations may provide the virus an opportunity to transmit more easily or to evade the immune response.
Dr Glynn said that significant progress has been made by the public to reduce transmission.
He told the committee that the average number of close contacts per case has reduced from almost five at the end of December to 2.1 today.
He also said that the proportion of people who say that they will definitely or probably take the vaccine when it is offered to them has risen from 76% to 85% over recent weeks.
Dr Glynn also said it is no surprise that case numbers remain high despite over three weeks of full level 5 restrictions, given the increase in transmission over the Christmas period.
He said that there was no doubt that increased levels of socialisation, the opening up of society, the extent to which generations mixed and the introduction of a new variant in December all contributed to the increase in case numbers.
Responding to Senator Martin Conway, who asked whether schools could reopen before St Patrick's Day, Dr Glynn said that "in general terms we have a long way to go".
He said that given the pressure hospitals are under, it is hard to look too far forward.
Dr Glynn said the return to school for children with additional needs would not have a significant impact on the level of community transmission that Ireland is seeing at the moment.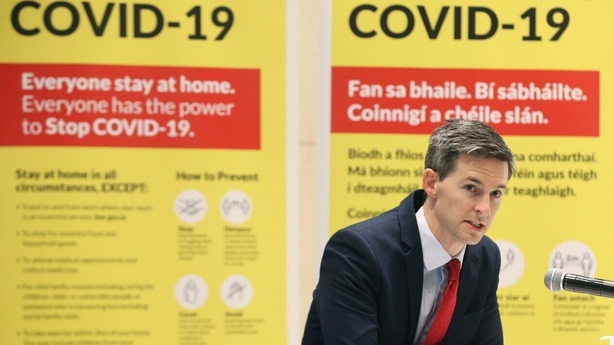 Dr Glynn warned against giving exposure to people who spread false information about Covid-19 vaccines and individuals who claim the disease does not exist.
Speaking in response to Independent Senator Frances Black, he said: "We should not give a platform to those who seek to promote misinformation on the vaccines.
"Now 85% of people in the country say they will take the vaccine when it is offered to them.
"That does not mean that they do not have concerns. Our job is to answer those concerns."
Dr Glynn said it was important if the vaccine was to work it needed to work across the world, otherwise there was a danger of new variants occurring.
He also responded to concerns raised by Fine Gael TD Bernard Allen, who said all public representatives were getting emails from individuals who claimed the disease did not exist.
Dr Glynn said: "Anyone who denies its existence … there should be no place for them at this stage given the impact it is having on families across the country."
Additional reporting Tommy Meskill