Sinn Féin TD Brian Stanley has come under renewed pressure following criticism of a tweet he posted about Tánaiste Leo Varadkar in 2017.
Mr Stanley, who is Chair of the Public Accounts Committee, has said he has always been a supporter of LGBT rights.
His Twitter account has this evening been deactivated.
Mr Stanley has said that he does not need to apologise for the tweet.
He told the committee that his record stands for itself and that he has always been vocal and campaigned for the rights of the LGBT community.
The tweet sent by Mr Stanley following Mr Varadkar's election as leader of Fine Gael read "Yippee 4 d tory. it's Leo. U can do what u like in bed but don't look 4 a pay rise the next morning".
Mr Stanley said that the word "yippee" was a celebration of gay rights, given that Ireland had a gay Taoiseach.
Vice Chair of the Committee Catherine Murphy said that she notes the work Mr Stanley has done in promoting gay rights.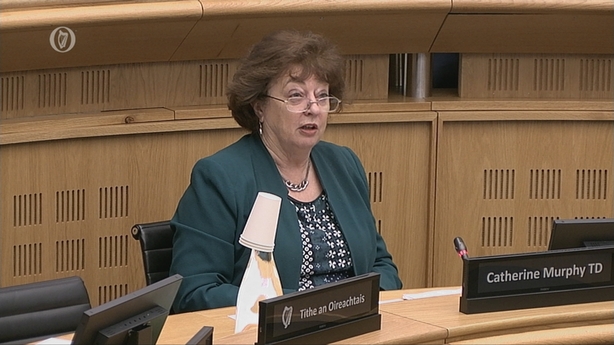 However, she believes that "it's never acceptable to link somebody's sexual orientation with public policy".
She said that she does not believe the reference to the then-taoiseach is acceptable.
Mr Stanley told the committee that he grew up in an Ireland when it was illegal to be gay, and that he stood up for gay rights before it was "fashionable".
He said that he does not have to apologise, adding that fellow members of the house, such as Mr Varadkar, Fintan Warfield and Jerry Buttimer would know his record.
Mr Stanley said that the point he was making was "it's great that we have achieved the rights for gay people and yippee to that".
We need your consent to load this rte-player contentWe use rte-player to manage extra content that can set cookies on your device and collect data about your activity. Please review their details and accept them to load the content.Manage Preferences
However, he said that he also wanted to convey that he wanted to "advance the rights of workers and their conditions".
Mr Stanley has also separately made a statement on foot of an interview he conducted with Midlands 103 last March regarding concerns over chicken imported from China.
He said: "I relayed a concern that was raised with me by a large number of constituents at the beginning of the Covid-19 pandemic when there were lots of unknowns about virus transmission.
"I subsequently sought clarification on this matter from the Department of Agriculture and I was satisfied with this clarification.
"I understand there is an orchestrated campaign directed against me by political opponents at present, which includes dragging up old interviews and tweets and taking them out of context.
"I will not let that detract from my work representing the people of Laois and Offaly, or from my work as chairperson of the Public Accounts Committee."
Sinn Féin's @BrianStanleyTD tells PAC that he doesn't have to apologise for a tweet he sent about @LeoVaradkar back in 2017. He said his record on gay rights "stands for itself" @rtenews pic.twitter.com/Mp4uMxSQPU

— Tommy Meskill (@TommyMeskill) December 3, 2020
Fine Gael MEP Maria Walsh said "soft wording on discrimination needs to be called out, and stopped." 
Speaking on RTÉ's Drivetime, she said: "I don't understand how any public representative or anybody in 2020 given the amount of wave of change this country has welcomed in terms of marriage equality and holiday as a whole, would connect anybody's sexual orientation to their occupation and to a leaders contest."
She called for Mr Stanley to further clarify his remarks, and also for the Sinn Féin leader Mary Lou McDonald to take action.
Sinn Féin Senator Fintan Warfield said there has been a "manufactured controversy" around Mr Stanley's tweet.
Speaking on the same programme, he said he knows Mr Stanley is proud of the progress we have achieved on social issues.
"I don't agree that Brian Stanley was speaking personally about Leo Varadkar here", Mr Warfield said. "Sinn Féin does not tolerate homophobia or racism, and we never will."