Minister for Justice Helen McEntee has agreed to appear before the Dáil tomorrow to answer questions on the appointment to the Supreme Court of Seamus Woulfe, Taoiseach Micheál Martin has said.
The announcement in the Dáil is a significant reversal of the Government's position up to this point.
Previously, the minister had contended that she could only answer written questions supplied by opposition TDs on this topic due to grave concerns over the separation of powers. 
But it was confirmed tonight that Minister McEntee will make a statement and also answer questions on judicial appointments in the Dáil tomorrow afternoon. 
This follows a vote in the Dáil tonight - 88 in favour and 63 against.  
Yesterday, opposition parties and groups withdrew from the same committee, which regulates Dáil business, in protest over the Government's position. 
In a statement, a spokesman for Ms McEntee said: "The opposition have already rejected the minister's offer to bring forward her oral questions.
"The Government continues to have grave concerns around the manner of debate the opposition is seeking and the effect it could have on the independence of the judiciary.
"However, in order to address this issue promptly the minister has asked that time be made available in the Dáil this week for her to come before the House."
The Taoiseach told the Dáil this afternoon that he held talks, separately, with the Ceann Comhairle and Minister McEntee about the row.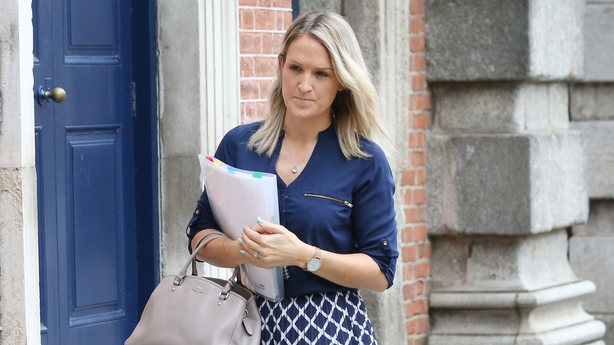 Yesterday, Mr Martin came under sustained and vehement criticism from all opposition parties over 90 minutes in the Dáil for defending Minister McEntee's position. 
Earlier today, the Tánaiste said the appointment of Mr Justice Woulfe to the Supreme Court was "more above board" than any appointment that had gone before.
Leo Varadkar said that since the foundation of the State, 16 former attorney generals have been appointed to the judiciary, eight of them to the Supreme Court.
What was different on this occasion, he said, was that Mr Woulfe's appointment went through an independent process.
Relations between the Government and opposition parties remain fraught, despite the Taoiseach's announcement that Minister McEntee would speak in the Dáil tomorrow.
There were further sharp exchanges between Mr Martin and the Sinn Féin leader Mary Lou McDonald and the Labour leader Alan Kelly.
All this comes after opposition TDs, following a meeting with the Ceann Comhairle and the Office of Parliamentary Legal Advisers (OPLA), were informed a vote on a motion to remove Mr Justice Woulfe from the Supreme Court should take place during private members' time.
RISE TD Paul Murphy described the decision as "outrageous" and said the vote can still take place under Standing Order 42.
Other opposition parties have indicated that they are unlikely to support the motion to remove Mr Justice Woulfe.