Sinn Féin has pledged to reverse the cuts to the pandemic unemployment payment and wage subsidy in its alternative Budget.
The party also said it would deliver 1,100 more hospital beds, 100 ICU beds, and it would recruit 2,500 additional nurses and doctors.
It also plans increases to various working-age social welfare payments by €5 per week, costing €222.5m.
The weekly pension would rise by €3 per week and €5 for those living alone.
The party said it would also reintroduce the State pension for 65 year-olds as promised during the general election.
On housing, it pledges to double the Government investment by putting in an additional €1.5bn to deliver 20,000 social and affordable homes.
In all, Sinn Féin said it would aim for spending of €18.3bn, which is €6.3bn above the Government target.
It said €3.5bn of this would be extra spending on Covid-19, €2.5bn more on capital investment, while €1.8bn would be for discretionary spending.
We need your consent to load this rte-player contentWe use rte-player to manage extra content that can set cookies on your device and collect data about your activity. Please review their details and accept them to load the content.Manage Preferences
Sinn Féin said this would be offset by plans to raise €1.5bn in additional taxes and it would run a higher deficit than the Government to fund the remainder of the additional spending.
It would impose a "solidarity tax" of 3% on incomes above €140,000 in 2021, which would rise to 5% in 2022.
Tax credits would also be tapered off for incomes above €100,000.
The party also said it would reduce the cost of rent by up to €1,500 through a refundable tax credit and it would ban rent increases for three years.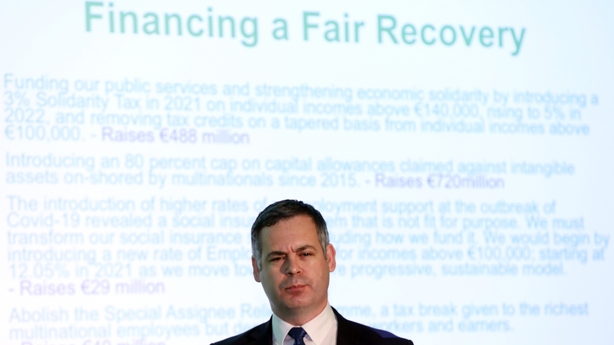 Sinn Féin's Finance Spokesperson Pearse Doherty said Minister for Finance Paschal Donohoe was wrong to cut the PUP.
Speaking to RTÉ's Morning Ireland, Mr Doherty said the Government has reversed its position on the matter and called for cuts that were made to PUP be reversed.
He said the PUP deficit will be about €22m.
Mr Doherty said employers are not in a position to sail through this period.