The Taoiseach was informed by a text from Minister Donnelly early on Saturday afternoon that Chief Medical Officer Dr Tony Holohan was going to convene a meeting of NPHET the following day.
The message indicated the reason for the meeting was a concerning increase in Covid-19 cases, including that day's statistics, which showed more than 600 people tested positive.
I understand there was no mention by the CMO, at that stage, of any proposed changes to restriction levels.
Moreover there was absolutely no suggestion of a Level 5 recommendation.
That information was conveyed from the Taoiseach's office to senior officials in the other two coalition parties, so it's expected Leo Varadkar and Eamon Ryan were informed then.
This is where there is a divergence.
The Government view is that there were no alarm bells at this stage. No reference to level changes had been indicated.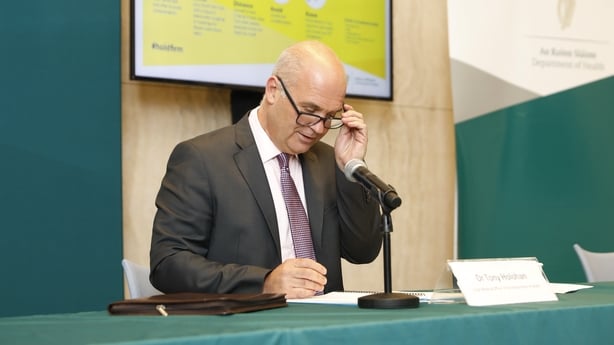 Moreover, NPHET had met the previous Thursday and it indicated even Level 3 restrictions should not be imposed at that time.
However, opposition parties don't buy that.
Social Democrats co-leader Róisín Shortall told me last night: "Surely the [coalition] leaders and Minister Donnelly asked about the implications of NPHET? Surely they engaged?"
Before NPHET met on Sunday, Minister Donnelly was again in contact with the CMO. The minister said they "discussed the deteriorating epidemiological situation".
After the conversation, the Taoiseach was informed by text by Mr Donnelly. It's understood that information was conveyed again to the senior staff of Mr Varadkar and Mr Ryan.
The NPHET meeting ended around 3.30pm in the afternoon. Then the CMO wrote up his letter of recommendation of moving to Level 5.
At this point, the Health Minister and Dr Holohan spoke again. Level 5 had moved from medical to political circle.
How it moved to a media circle is unknown, but Dr Holohan said yesterday: "Whoever was responsible for that leak did not share our objective to deal with the disease in the way that we think appropriate."
Minister Donnelly's timeline says he contacted the Taoiseach after his conversation with the CMO.
Then, I understand, the information was conveyed to senior staff in the other two coalition parties, so it's believed Mr Ryan and Mr Varadkar became aware of the Level 5 situation at that time.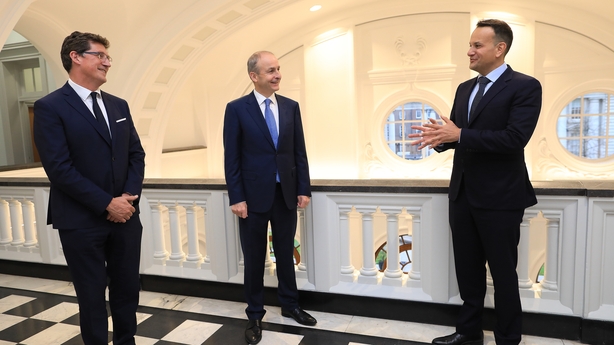 I believe the Taoiseach and the Tánaiste spoke together about the Level 5 recommendation.
After the leak, the media were subsequently informed of the Governments shock and surprise at the development.
The Government's view was that Level 5 came out of the blue, particularly given NPHET's outlook on Thursday.
This led to what Minister Donnelly described as "robust engagement" on Monday between the CMO and his team and the three coalition leaders.
The Government opted, in a first in this pandemic, to reject NPHET's advice and go to Level 3. The Taoiseach outlined his position that night, stating Level 3 was appropriate and proportionate.
Things might have ended there but Tánaiste Leo Varadkar's appearance on Claire Byrne caused further controversy.
It was here that Mr Varadkar spoke of his deep frustration that Level 5 had landed "out of the blue" on a Sunday.
It's at this point Opposition parties pile-in.
Sinn Féin's David Cullinane says Minister Donnelly "allowed the impression be formed that NPHET went on a solo run and stayed silent as the Tánaiste attacked the CMO".
Labours Alan Kelly says: "We've been led to believe the Government was completely in the dark until this broke suddenly without warning on Sunday night, but at all stages it appears the Health Minister was in the loop."
Ms Shortall said Leo Varadkar claimed on Claire Byrne that the Government was landed in this on Sunday night, without prior consultation, and repeated that claim. "Didn't the Taoiseach ask Health Minister to tell them?" she asked.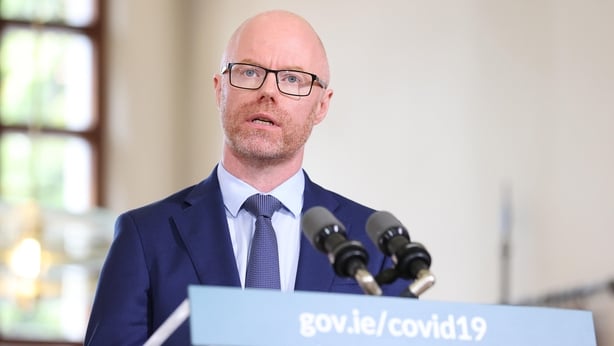 So now there is a stand-off and the Health Minister, Tánaiste and Taoiseach are in the firing line.
Opposition politicians want a Dáil statement no later than today from Minister Donnelly about what happened.
I understand the Government believes it's already been upfront about who knew what, when they knew, and what was done.
A row between doctors and Government politicians has now widened to involve opposition deputies too.
Yesterday evening, the Tánaiste told journalists about how he rang Dr Holohan.
Mr Varadkar said: "We had a good conversation. We are on the same team. We always have been. What we need is not the Government vs NPHET, but Ireland vs Covid-19."
The Tánaiste may want to move on but opposition parties are in no mood to let that happen just yet.