Green Party Leader Eamon Ryan has said members of his parliamentary party cannot abstain or vote against the Government.
He was speaking after TD Neasa Hourigan and Minister of State Joe O'Brien were sanctioned by having their speaking rights withdrawn for two months.
Last night Ms Hourigan voted against the Residential Tenancies Bill and Mr O'Brien abstained from voting.
The Green Party parliamentary party met following the final vote last night and decided to sanction Mr O'Brien and Ms Hourigan.
It said both Mr O'Brien and Ms Hourigan have had their speaking rights removed for two months.
A spokesperson from the Green Party confirmed that the two month suspension on speaking rights for the TDs begins immediately and not when the Dáil resumes after the summer break.
Politicians will begin their six week Dáil summer break immediately and are not scheduled to sit again until 15 September.
Mr Ryan confirmed that the suspension period will included the six week recess.
He said he is confident that the Green Party can come back to work as a team and work with Government partners to manage the country through the current crisis.
Ms Hourigan yesterday resigned as party whip, but said she was not leaving the party, after voting against the Government twice on amendments to the Residential Tenancies Bill.
She said she voted in the way she did because of significant concerns she has for people living in precarious tenancies.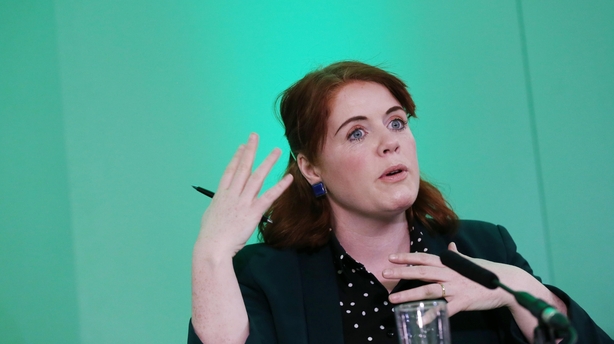 We need your consent to load this rte-player contentWe use rte-player to manage extra content that can set cookies on your device and collect data about your activity. Please review their details and accept them to load the content.Manage Preferences
The legislation, she said, does not offer enough protection for renters.
The Dublin Central TD said her vote was in line with Green Party policy and she did not believe the legislation was agreed within the Programme for Government.
Today Ms Hourigan said it is "not wise or fair" for her to row in on what the parliamentary party decided on last night.
Speaking on RTÉ's Today with Sarah McInerney she said: "We did have a meeting quite late after the debate.
"What I said at that meeting is that I fully expect to be sanctioned, and whatever sanctions they decide on I will accept them. I knew what I was doing and therefore whatever they decide is right."
She said the party has had an "extraordinary few months", where out of necessity they have had to debate and agree an incredible amount of very detailed legislation.
"Part of what has happened here and you can see the pressure of that over the last few weeks, and part of the issue here is we simply did not have enough time to scrutinise this legislation."
She is hopeful that in the autumn there "won't be quite the same pressure there" and it will not arise and they will have more time to develop legislation that reflects the party's policies.
Mr O'Brien explained his decision to abstain on the bill in a statement on Twitter.
He said: "The issue of homelessness is an extremely important one for me, I've worked in the area, I've been a whistleblower in the area, I have friends who work in the NGOs (non-governmental organisations) and I feel we need to do everything we can to tackle it. I'm elected in part to be a legislator".
TDs were voting on a Labour amendment to the bill, which would give Government the power to extend the ban on evictions and rent increases across the board again should it need to.
The new bill would renew rent freezes and the moratorium on evictions, but only for people whose income has been impacted by Covid-19.