The Green Party leadership contest is continuing today with a second hustings online for members in the Dublin constituency.
The first online hustings event took place on Tuesday evening for members in the South constituency.
Deputy leader of the party, Catherine Martin, is challenging the current leader Eamon Ryan.
Today she said the threat of walking away from Government in the event of green policies not being delivered must be credible.
In her opening statement today, Ms Martin paid tribute to Mr Ryan saying without his commitment the party would not be where it is today.
She said the Green Party's membership in Government requires constant review to ensure its policies are being implemented.
Appealing to members to give her their vote, Ms Martin pointed out that experience cannot be an essential prerequisite for the leadership of the party.
She said the party had to be careful not to put experience on a pedestal because she said that could be a risk of more of the same.
Ms Martin said now more than ever the party needed to take risks and be courageous and must not be a prisoner to experience.
She also said the party must shine a light on rural Ireland.
"I am of rural Ireland, I understand rural Ireland I understand its importance to our green goals, more importantly I understand the fears that change brings," Ms Martin said.
She said the party needed to make a pact of trust with rural Ireland, one that is good for the planet and good for rural communities.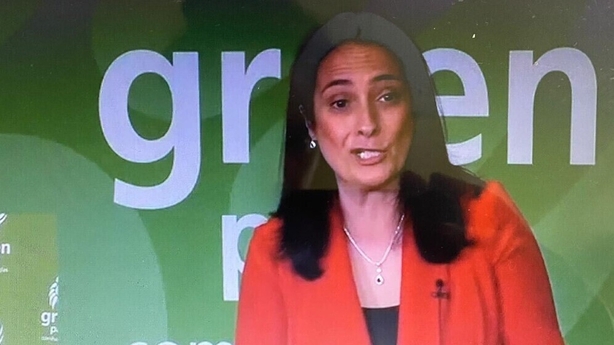 Ms Martin pointed out that hand in hand with climate justice must come social justice.
She said that the social justice dimension was just as radical as the climate dimension and that this was the energy that will empower change in society.
Ms Martin said winning more Dáil seats and tackling climate change are the same side of the same coin.
She also promised to work tirelessly to promote the green vision across the country.
Mr Ryan began his pitch to retain his seat as leader by speaking about growing and expanding the party around the country.
"What a leader has to do is to help build the teams that would help to deliver that and I think I have experience in that, I think that is what I kind of learned in the last nine years is how to build teams and how to get other people involved," Mr Ryan said.
He said any leader had to concentrate on the team in Government because he said there was an urgent job to do there and a once in a lifetime opportunity to turn the country green.
Mr Ryan said there was an obligation to deliver on the programme for government.
He said the party needs to build up its team in the Oireachtas, which he said would be a huge challenge.
He said he knows how that might work best because he said he had experience over many years.
The party, he said, should be ambitious and work to increase its membership to 5,000 by the end of the year.
He also said the party needed to aim for a 100 council seats in the next local elections.
Facing questions from party members via Zoom today, both candidates were asked how as leader they would hold Fianna Fáil and Fine Gael to account if they do not play ball in delivering key targets in programme for government?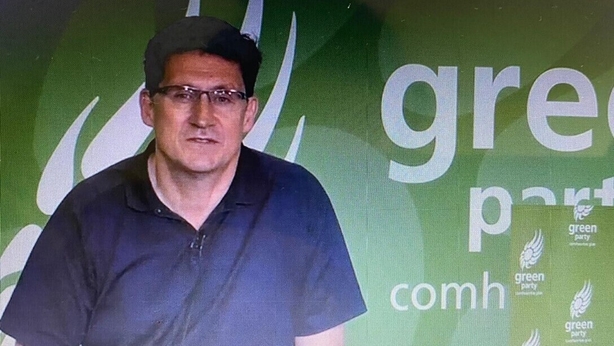 Responding, Mr Ryan said if other parties are not agreeing the Green Party must stand its ground and make it happen rather than walking away.
"Cabinet and Government works on the basis that if there is tough decisions it has to be agreed at Cabinet," he said.
He said the country is facing into the most difficult year in living memory with a potential combination of Covid-19 and Brexit, which he said makes it difficult to stand your ground but he said there was a chance to do things differently.
Ms Martin said the Green Party leader must be prepared to work hard and make sure that policies in programme for government are delivered.
"I believe that I showed during those negotiations how hard of a deal maker I was and how hard I would fight to get even certain words into the programme for government to strengthen policies."
Ms Martin promised to renegotiate the programme for government when the Taoiseach changes in 2022.
"I know the coalition partners aren't too keen on that but they do not tell us what to do as a party, that is for us to decide and as a leader I would make that decision."
She said the threat of walking away from Government in the event of green policies not being delivered must be credible.
She said she would not engage in brinkmanship, but she said she would stand firm and draw clear lines in Cabinet when it is necessary.
Ballot papers have been sent out to members and must be returned by Wednesday 22 July.
The announcement of the winner of the leadership contest will be made on the following evening, 23 July.