It will cost around €25,000 a day to hold Dáil and Seanad sittings at the National Convention Centre.
Members of the Oireachtas Business Committee have been told that there was an initial outlay of around €100,000 associated with equipping the building with microphones, cameras, recording equipment and other technology at the Dublin conference venue.
There will be further costs of around €25,000 a day according to a number of committee members who were briefed by the Clerk of the Dáil, Peter Finnegan, on health precautions being taken by the Oireachtas.
The Convention Centre is not charging the Oireachtas for use of the building and the costs mainly relate to staffing and broadcast technology.
A spokesperson for the Houses of the Oireachtas said it would not be making any comment on the costs, but that it is "seeking to keep abreast of the most current public health advice".
The Dáil has sat at the Convention Centre twice so far - last Saturday for the election of the Taoiseach, Micheál Martin, and again on Tuesday for votes to approve spending estimates.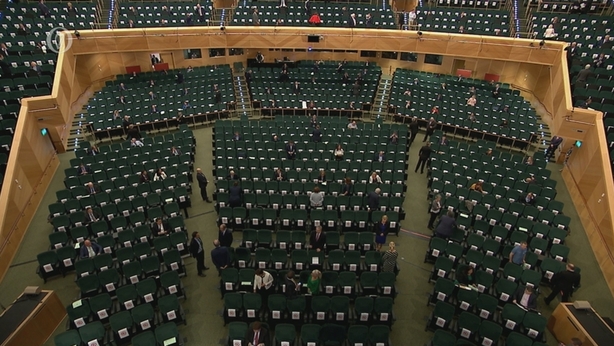 The Seanad sat there on Monday, while the Dáil will sit there again on Wednesday and Thursday of next week.
The Leinster House complex will be used next Tuesday, with strict restrictions on how many members can be in the chamber at any one time, because it is not anticipated there will be any votes called on that day.
The Business Committee had previously considered the use of a number of alternative buildings, but the Convention Centre was deemed the best option in terms of availability and cost and the only one large enough to allow social distancing of 159 members who can be present in it at any one time.
It is understood that some Committe members queried whether the Leinster House Dáil chamber could be used for votes, but they were told this would be too time consuming and onerous, as voting would have to take place on a staggered basis to allow social distancing.
It is unclear how long the current arrangements will last, or how many times the Convention Centre will be used.
The Committee also discussed a phased approach to re-establishing Oireachtas Committees.
It is understood just a handful of committees - those deemed indispensable - will be set up before the summer recess, including the Public Accounts Committee (PAC) and the Budgetary Oversight Committee.
The remaining committees will be established in the autumn.
Committees will sit remotely with witnesses likely to sit in a committee room while TDs and Senators question them via video link from their offices in the Leinster House complex.