The Taoiseach has said the country needs a majority government and he does not think it would be possible for Fine Gael and Fianna Fáil to do that with Independent TDs if the Green Party did not vote to go into government.
Speaking on RTÉ's Prime Time, Leo Varadkar also said he has offered to meet Sinn Féin leader Mary Lou McDonald but it would be to tell her why he would not go into government with her party.
Mr Varadkar said he did not rule out being elected again as Taoiseach for a day so he could appoint 11 Senators to the new Seanad, but said it is not something he desires.
The Fine Gael leader said the 7% average annual reduction in carbon emissions over the next ten years is necessary and he would keep that commitment in a programme for government, even if the Green Party does not go into government.
He said it will be difficult to achieve, "but we're committed to doing everything possible to achieve it".
Taoiseach Leo Varadkar tells David McCullagh that he is committed to the 7% annual reduction in emissions even if the programme for government is not approved by all three parties. #RTEPT | @mcculld | @LeoVaradkar | #Prog4Govt pic.twitter.com/LQ4YXC6m71

— RTÉ Prime Time (@RTE_PrimeTime) June 23, 2020
Mr Varadkar said it was "honest" to plan that most of the reduction would come in the second five years of the ten-year plan, after the next government leaves office, as policies such as expanding offshore wind generation and planting trees would take time to implement and have an effect.
Earlier, Fianna Fáil leader Micheál Martin said there is no "magic Plan B" if the programme for government is rejected.
Mr Martin said he believes the public wants to see a government formed to respond to the current economic crisis and he is positive the programme for government will be accepted.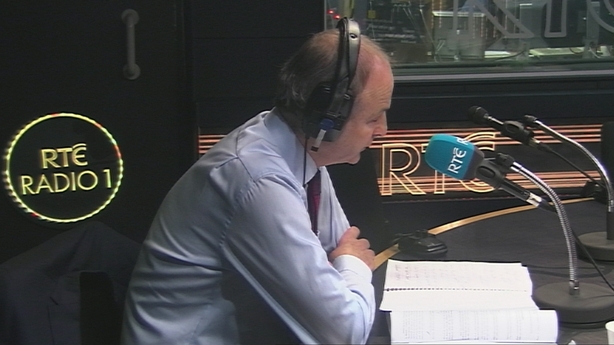 Speaking on RTÉ's Morning Ireland, he said while the General Election result was not the one he wanted, he sees the proposed partnership government as a historic combination that can deliver a transformative programme for government.
He said he is getting very positive feedback from his party and it is taking a vote on the basis of a partnership agreed and has taken part in negotiations in a very sincere and honest way.
He said "we have to deal with the result of the election and once elected we have to work with others to develop a sustainable and deliverable" programme for government to deal with the context of its time.
He said if the programme for government is not agreed there is "no magic plan B'" and we will be in uncharted territory.
Mr Martin said that the programme for government will be transformative in the areas of housing, health and in the broader area of life as well as in the context of the economic impact of Covid-19.
"There is no magic Plan B," says Micheál Martin when asked what would happen if the Programme for Government is rejected. pic.twitter.com/JKR2sAU2vk

— RTÉ News (@rtenews) June 23, 2020
Mr Martin has said the programme for government has agreed to provide 50,000 social houses and "a very strong suite of measures for affordable housing with state intervention for young people".
Micheál Martin says the new government would provide 50,000 social housing units. He says there is not an exact figure for affordable housing, adding that there are measures in the programme for govt to help young people afford housing. pic.twitter.com/7ZQBdyypyf

— RTÉ News (@rtenews) June 23, 2020
He said challenges to the slowdown of construction and social distancing could affect productivity and output in the sector.
Mr Martin said that people in business and the economy are "crying out for a stable government to be formed with a majority so that they can get assistance and help and all hands on deck in getting people back to work".
He said there may very well be a Children's Minister, but these issues need to be discussed more broadly.
Mr Martin also said it is his intention to lead Fianna Fáil into the next general election, but the focus right now must be on forming a government.
Sinn Féin leader Mary Lou McDonald said if the current attempt at government formation "sunders" there will have to be talks between all parties and Sinn Féin would play a lead role in a trying to form a "truly new and transformative government for change".
Speaking on RTÉ's Today with Sarah McInerney, she said the combination of Fine Gael and Fianna Fáil "back cemented in government" is certainly not change and Sinn Féin does not see this coalition having "the capacity or the will" to deliver the things to make peoples' lives better.
She said if the government is not formed this weekend, she would talk to the Social Democrats, the Green Party, People Before Profit and other independent formations to establish "if can we agree on a very strong programme for government measures" and agree on a strong core to move forward.
She would then seek to talk to Fianna Fáil and Fine Gael.
In that scenario, she said she would be taoiseach, given the historic low combined vote for Fianna Fáil and Fine Gael.
She said while Sinn Féin has disagreements with the Green Party on carbon taxes for people with low incomes, it shares a view with many in the Green Party that you cannot have climate justice without social justice.
Ms McDonald described discussions about keeping Mr Varadkar as caretaker Taoiseach if the agreement fails this weekend as "a clumsy agreement" and said she suspects "it is being floated as pressure tactics".
Meanwhile, Tate Donnelly of the Green Party said he has voted no to the programme for government, saying it is not the path he wants to take the country on.
The General Election candidate for Cavan/Monaghan said Green Party negotiators got the best possible deal, but it was not one he could support, despite wanting to see the Greens in government.
Mr Donnelly said he hoped that parties would continue to talk to each other and a government could be formed quickly if the deal is rejected by the Green Party on Friday.
Speaking earlier, he said he understood that people wanted a stable government but there is no point in having a government "for the sake of it" and he would prefer whatever slack needs to be taken now, than voting for a government that will have a negative effect on people's lives.
The point of politics, he said, is not to be elected but to have a positive effect on people's lives.
Mr Donnelly said the Green Party has spoken to every party at this stage and it is an issue that the three largest parties will not speak to each other.
The results of all three party votes will be announced on Friday.
All three must back the deal in order for Mr Martin to be elected Taoiseach when the Dáil sits on Saturday.