Talks between the leaders of Fianna Fáil, Fine Gael and the Green Party have concluded. The meeting lasted three hours and was described in a joint statement as "constructive". 
The statement said the meeting "dealt with many of the outstanding issues". After days of impasse, sources told RTÉ they believe the meeting would allow for some momentum in the government formation negotiations.
Talks between Fine Gael's Leo Varadkar, Fianna Fáil's Micheál Martin and Eamon Ryan of the Greens took place this afternoon in the hope of overcoming remaining policy differences as the parties try and agree a programme for government.
The meeting concluded at 6pm. A Fianna Fáil spokesperson commented: "The three leaders had a constructive meeting and made progress with many outstanding issues. All parties will continue the talks tomorrow."
The deferral of changes to the State pension age from 66 to 67, as well as how to achieve reductions in carbon emissions, were among the sticking points expected to have been discussed.
Earlier, Fine Gael TD Martin Heydon told RTÉ's This Week In Politics said he was hopeful of an agreement before next weekend but this was "by no means guaranteed".
He said while progress had been made on some areas, "there are still some really significant outstanding areas as well."
Policies on agriculture and housing – including the precise role of a new agency to oversee the building of housing on state land – were not agreed during intense talks yesterday.
Negotiators believe that agreement needs to be reached on key areas by Tuesday night to allow for a timeline to have party memberships to hold votes and a government formed by the last week of June.
Legislation to allow the special criminal court to continue sitting has to be passed in the Oireachtas by 30 June.
If a programme for government can be agreed, the three party leaders will put it to their membership. The party members' voting process is expected to take around ten days.
Earlier, Tánaiste Simon Coveney told the Business Post that he expects a deal to be reached by Thursday.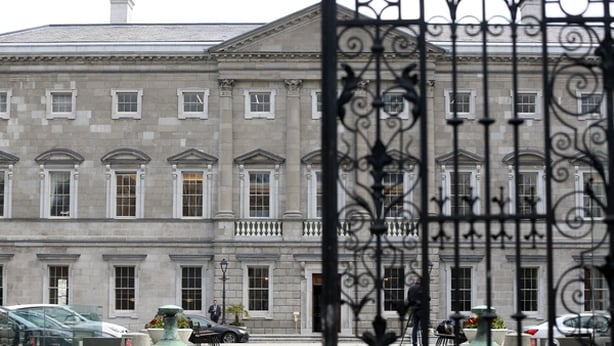 The negotiations take place against the backdrop of a Green Party leadership contest, after deputy leader Catherine Martin declared that she will run against Eamon Ryan for the position.
Fianna Fáil has described the timing of the Green Party leadership contest as far from ideal.
Speaking on RTÉ's The Week in Politics, Fianna Fáil TD Marc MacSharry said he assumes the Green Party is negotiating with Fianna Fáil and Fine Gael "in good faith" and the leadership issue was ultimately one for the party.
Meanwhile, Junior Minister John Halligan has said he believes that neither Fine Gael, Fianna Fáil nor the Greens want to be part of the same government.
Speaking on RTÉ's 'The Weekend on One', Mr Halligan said he thought that "a reluctant deal" on government formation would be made this week.
But he said that while a government did have to be formed, people had not voted for a coalition made up of these parties. He also said that Sinn Féin should have been brought into the talks.
The Minister said he did not think any coalition would be secure.
Mr Halligan - who chose not to contest his seat in the general election - said he would prefer to have been gone by now, rather than "hanging in (as Minister) for four or five months".