The leader of the Green Party says he has no problem with Catherine Martin putting her name forward for a leadership contest.
Speaking to RTÉ's Today with Sarah McInerney programme Eamon Ryan said he has spoken to deputy leader Ms Martin every day and she has nothing to apologise for.
If she did put her name forward, he said, that would be healthy and not something that would divide them.
He added that it is something the two of them have discussed over the last number of years and that the focus should be on what needs to be done to help people get out of the current situation, not on who is leading the Green Party.
Mr Ryan said if Ms Martin became leader, he would work with her, and vice versa.
He said that he did not know last week's letter from four Green councillors calling for Ms Martin to challenge for the leadership was coming, but it was not a complete surprise.
Mr Ryan said he does not believe that talks on government formation are affected by talks of a leadership contest.
Mr Ryan said he hoped it would be possible to get a deal and he does not have a sense that the issue is causing any problems.
He said that the focus is on housing, health, climate and how the economy recovers.
Mr Ryan said the Green Party should focus on practical change and he is not looking for a rotating Taoiseach role to include him.
---
Read more
Martin to give 'serious consideration' to leadership
Green Party says it has not discussed AG appointment
Latest politics stories
---
He said that he had not given much thought to the role of Tánaiste.
Mr Ryan said that all three parties would be interested in having a member act as the Attorney General.
He said that there will be adjustments to the State Covid-19 payments.
Mr Ryan said any future government should examine the idea of a direct payment to support workers.
He said the Green Party approach to climate change will only work when the sense of division between rural and urban life breaks down.
Mr Ryan said he spent much of the last four years talking to people all over the country and he is convinced that there is a huge opportunity for both rural and urban Ireland, as we make these changes.
He said no one person is indispensable or vital, but as long as he has something to offer, he is willing to act.
Independents discuss government formation talks
Verona Murphy, Independent TD for Wexford and member of the Regional Independent Group, said there is no timeline on talks but they are proposed in the next week or 10 days.
She told RTÉ's Today Show with Sarah McInerney that she will be looking at a programme for government that "delivers a good deal" for the country and the regions.
She said that she had "no problem" with Fine Gael and did not believe the party had any issues with her.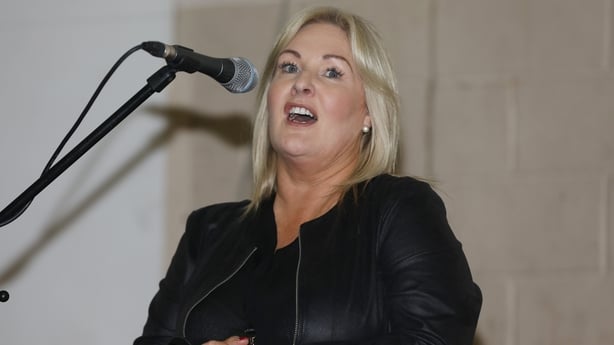 Ms Murphy ran for Fine Gael in the Wexford by-election in November 2019 but was later de-selected by the party before the general election, which she contested - and won a seat - as an Independent.
She told RTÉ that "everyone has moved on" from the by-election. 
Ms Murphy also said that she had a green proposal on carbon emissions that she believed the Green Party would be very interested in.
Marian Harkin, Independent TD for Sligo Leitrim and also a member of the Regional Independent Group, said the negotiations on government formation were an ongoing process and the group has presented documents to the three main political parties and the Green Party. 
These meetings, she said, established credentials and the parties know how the Regional Independent Group thinks. 
She said that balanced regional development is a bottom line for them but the papers have been drafted from a national perspective and not from individual constituencies. 
Ms Harkin said that she was hugely concerned about Covid-19 payments because most people did not realise they may have to pay tax on the payments and they needed to be made aware of this.
---