The Fianna Fáil leader has said that he would not change the Government's roadmap for emerging from the Covid-19 restrictions, but added he felt it was flexible in that it could be refined over time.
However, speaking on RTÉ's Prime Time, Mr Martin said the omission of how to deal with the Leaving Certificate from the plan was "quite striking" and that "one gets the sense that holding the examinations is not consistent with public health advice."
He said the issue was causing huge anxiety among students, parents and teachers.
Mr Martin insisted his party was not "playing political games" in relation to the exams which is due to commence on 29 July.
He said that Fianna Fáil had not put out the message that students "needn't bother" continuing to prepare for the Leaving Cert but said the Government needed "to come clean " and make a comprehensive statement on the matter.
He added that the most important thing now is that a programme for government is delivered that would "sustain over the next five years", that would lead to the restoration and recovery of the Irish economy.
In relation to entering government formation talks with the Green Party and meeting a commitment to see carbon emissions reduced by 7% year-on-year, Mr Martin said in the first year this may have been made easier by the impact of Covid-19.
He said there would have to be a deep retrofit programme, the rewetting of bogs, transport measures and increased working from home.
Mr Martin said that Ireland had one of the most efficient food production systems relative to other European Union member states, but that we had to continue to strive to be more efficient in terms of greenhouse gasses within agriculture.
Asked about Donegal Fianna Fáil councillors being unhappy with the idea of the proposed govermnent involving Fianna Fáil, Fine Gael and the Greens going ahead, Mr Martin said that councillors in Fingal came out unanimously in favour of it.
Fianna Fáil leader Micheál Martin discusses inconsistencies between holding the Leaving Cert exams & the roadmap for reopening the country and what his party would do differently if he was elected Taoiseach#RTEPT | #COVID19 | #LeavingCert | @MiriamOCal | @MichealMartinTD pic.twitter.com/rwxemZf3VS

— RTÉ Prime Time (@RTE_PrimeTime) May 5, 2020
Mr Martin said the consultation with party members on the formation of the next government was the most comprehensive in the party's history and there would be an opportunity for party members to vote on any deal.
He also said that he was not fazed by opinion polls.
On whether the party would go into government with Sinn Féin if talks with the Green Party failed, Mr Martin said he believed efforts to form an administration would work.
Mr Martin said the Fianna Fáil parliamentary party had taken a strong position on not going entering power with Sinn Féin. However, he added that he had written to the leader of that party and had not received a response.
In relation to Covid-19, Mr Martin said from the outset of the crisis he thought it was very important that there would not be political competition in relation to the response as that would have been very damaging.
He said that he did not like some of the stories and narratives that were beginning to emerge from some TDs in relation to the National Public Health Emergency Team (NPHET).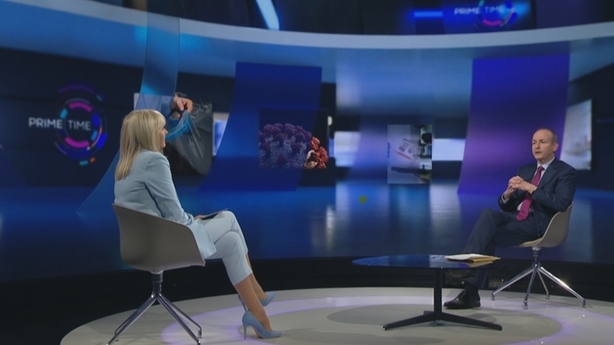 Mr Martin said that "coherent public health advice" was necessary in a crisis, and that it was easy to lecture in hindsight.
However, it was his view that "public health officials have stood up to the test", despite the fact that people may not have agreed with everything that they said.
Mr Martin said there would always be discussions between NPHET and the Government, and it may not be as black and white as it seems.
He said he got the sense that the general public may not be aware of the gravity of the economic challenge now facing the country as a result of Covid-19, and that was an area that needed greater attention.
The Fianna Fáil leader said he has been calling for transparency in relation to clusters in nursing homes and meat factories and other areas where they emerge.
He said he also believed the Government "could do with more external expert advice" and that the handling of non-coronavirus related medical treatments and procedures is an area that had "perhaps been missed" and that he was concerned about.