Counting of votes continues this evening in the election to the 26th Seanad.
So far, just seven of the 60 seats have been filled with the count for the Cultural and Educational Panel being completed earlier today and two seats being filled on the Agricultural Panel.
Fine Gael's Sean Kyne and John McGahon, Fianna Fail's Lisa Chambers and Malcolm Byrne and Sinn Féin's Fintan Warfield all took a seat in the upper house.
The count for the Agricultural Panel is continuing with nine of the 11 seats to be filled.
Independent Senator Victor Boyhan and Fianna Fáil's Denis O'Donovan have been re-elected on the sixth count and tenth counts respectively.
Elsewhere, the University Panel counts are also up and running, with ten candidates vying for the three places on the Trinity Panel and 19 hoping for one of the three seats on the NUI Panel.
The former Fine Gael TD Pat Deering is excluded having failed to win a seat in the Seanad election.

His 40,000 votes will now be transferred to the remaining 14 candidates who are vying for the 9 seats left on the Agricultural panel

— RTÉ Politics (@rtepolitics) March 31, 2020
Those counts are taking place at the RDS and Trinity College Dublin.
Because of restrictions in place due to the coronavirus the media is not allowed at the counts.
Candidates have also been urged to stay away while social distancing and health and safety measures are in place for the count staff.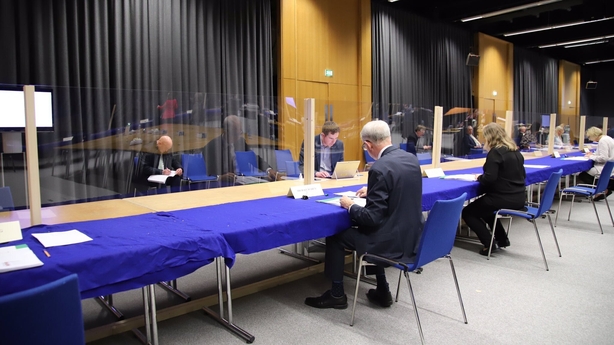 Follow @rtepolitics for all the Seanad election news or follow it yourself on @OireachtasNews where it is being livestreamed.