The Green parliamentary party faces some colossal questions about going into government, but time appears to be running out, thanks to Covid-19.
On Wednesday, the party's deputy leader Catherine Martin called for the suspension of government formation talks and the creation of a government of national unity for three months, so that all political parties could focus solely on fighting the coronavirus.
However, that approach was almost immediately ruled out by Fine Gael, Fianna Fáil and Sinn Féin.
A senior source from one of those big parties said bluntly: "A national government is a way of making government less effective, not more."
Opposition to the concept did not come from just the big parties. The Social Democrats said the existing structure to tackle Covid-19 was "the best forum within which to formulate an effective national response".
So with that big idea shot down in flames within a matter of hours, what was the Green Party's next approach going to be?
Defiance.
On RTÉ's Morning Ireland, finance spokeswoman Neasa Hourigan maintained it wasn't appropriate to focus on the "granular important work" of government formation when people were dying in hospital.
In a serious political charge, she claimed Fine Gael and Fianna Fáil were not interested in "serious policy" and only wanted to "divvy up the ministries".
That afternoon, Catherine Martin continued the double down, telling reporters: "Our position remains unchanged. There should be a suspension on government formation talks. That's what we said yesterday. That's what we're saying today."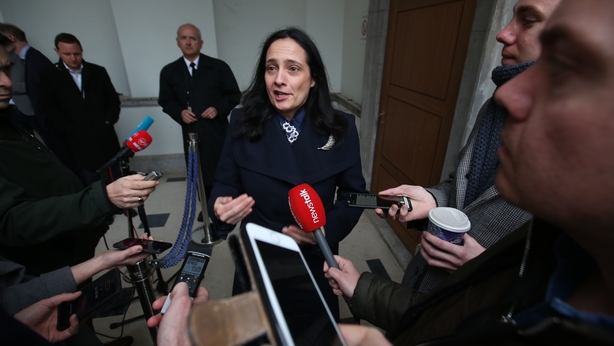 New Green TD Ossian Smyth explained the position by saying it was "impossible to talk about making a new government" given the scale of the crisis posed by Covid-19.
He listed off the problems that needed tackling: "Dealing with people who don't have enough money; whose jobs are gone; who are worried they are getting infected; who have elderly relatives; who have children coming in from school; who have child-minding problems."
He added: "It would just be impossible to talk about making a new government in that situation. That's not on the agenda of any meeting at the moment and I can't imagine for any party it is."
But government formation is very much on the agenda of two of the big three parties - Fine Gael and Fianna Fáil - and there's the rub.
Indeed the party leaders, Leo Varadkar and Micheál Martin, have agreed that their negotiating teams should meet next week for informal talks on a possible programme for government. What is the reason for a sudden increase in tempo coming several weeks after the election?
In an earlier joint statement they declared: "Both leaders are acutely aware of the enormous challenges facing the country, particularly with the onset of Covid-19."
Fine Gael politicians, in particular, bridle at any suggestion that they're not appropriately focused on the coronavirus. Hourigan's "divvy-up" jibe went down particularly badly with Fine Gael and Fianna Fáil.
Both parties are of the firm view that only a majority government can take the big decisions that are necessary to deal with this emergency.
They argue that there is a need not just to guide the country out of the immediate health crisis, but also to plan for an economic recovery given Covid-19 will inevitably cost the Exchequer billions and trigger thousands of job losses.
It has to be noted that the Green Party leader, Eamon Ryan, didn't completely close the door on government formation talks.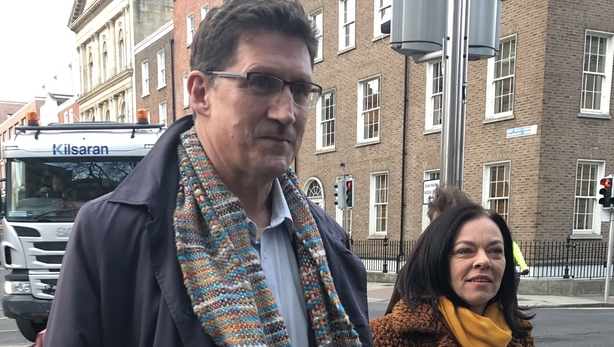 Asked on Thursday what would happen if the Greens were invited for such negotiations, he replied: "We as a parliamentary party would have to meet and discuss that. It would be a position for ourselves."
There is a burning desire within the Green Party to ensure that its big and detailed policy initiatives are intricately woven into any programme for government.
Part of that stems from its last experience of being in government, after which all of the Green TDs lost their seats in the 2011 general election.
Yet one of the consequences of exiting the talks on government formation now, is that it's likely to shorten the amount of time the Greens will have to negotiate policy for a future coalition, should it decide to do so at some point in the future.
After all, Fianna Fáil and Fine Gael have made it crystal clear that they're pressing ahead with their negotiations on a possible programme for government.
Another complicating factor is that the Green Party jumped from three to 12 TDs in the 2020 general election. No matter how competent, it's a big transition from the council chamber to almost immediately negotiating a programme for government. That's a steep learning curve.
One senior politician from another party remarked that in government formation talks so far, some of new Green TDs were "principled rather than political" and observed that compromise seemed to be "another country" to them.
Another senior politician from a separate party noted dryly that the Greens didn't have the "same level of discipline" as his own colleagues.
Events over the past week have only deepened existing concerns in the wider Green Party that they'll be squeezed by a joint Fine Gael-Fianna Fáil axis and desperately needed policy on climate action will be watered-down.
So what happens next?
The Green parliamentary party is going to have to decide if it actually wants to negotiate a programme for government with the two traditionally largest parties.
Catherine Martin has effectively bought some time. They are out of negotiations for now, but decision time isn't far off.
And the catch-22 is this: the longer they stay off the negotiating pitch, the less time they have to secure the type of programme they want.
And if they don't negotiate a good deal, it will be extremely difficult to secure the two-thirds majority required for a proposed coalition deal to pass a special delegates' conference.
It's a real dilemma.
As one Green supporter remarked to me this week: "I am really scared about the Greens going into government with Fine Gael and Fianna Fáil. But I'm terrified about the Greens staying out of government and letting Fine Gael and Fianna Fáil go in with the Independents."