Taoiseach Leo Varadkar has said an independent person may be appointed to examine the Dáil attendance record and expenses claims of former Fine Gael TD Dara Murphy.
It comes after the Dáil's ethics watchdog decided that it is outside its remit to consider a complaint made against Mr Murphy on the basis that he is no longer a member of the Oireachtas.
Mr Murphy resigned his seat as TD for Cork North Central earlier this month to take up a new role in the European Commission.
Fianna Fáil whip Michael Moynihan had raised concerns over Mr Murphy's Dáil attendance record and related expense claims.
The complaint related to the fact that Mr Murphy was a TD while also regularly working in Brussels with the European People's Party - the political block that Fine Gael is aligned with.
Mr Varadkar said he did not "sanction" Mr Murphy taking up his role with the EPP.
---
Read More:
Government formed over breakfast is fast running out of supplies
---
Speaking on RTÉ's Marian Finucane Show, Mr Varadkar said he did know about the appointment but he did not give his permission.
However, he did not disapprove of the former TD taking the job.
The Taoiseach admitted he issued a press release at the time congratulating Mr Murphy on the role.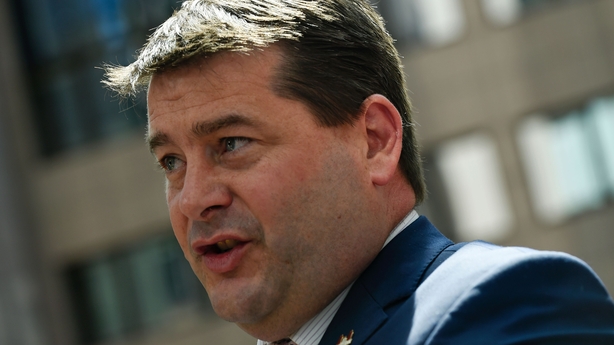 "You will often see across political parties TDs taking on that type of role." He said it was only temporary and more importantly they continue their role as TD.
However he said in the case of Dara Murphy the case has to be investigated following the questions now being asked.
"The record shows he kept his constituency office open and he was in the Dáil on X number of days, 120 days and so on. But people are now questioning that so that has to be investigated."
He said they have to find a way to investigate it.
"That is something that isn't entirely under my control. If he was still a member of the House he could be investigated."
"We need to find an alternative option. We may appoint an independent person to examine it."
He said if it is found that the former Fine Gael TD broke the rules it should be dealt with appropriately.
Reflecting on Dara Murphy's attendance at the Dáil he said Mr Murphy was not at the bottom of league table for turning up for votes.
"The record shows he was present for at least 120 days in the Dáil last year. It wasn't the case I was only seeing him in Brussels."
Taoiseach says he is not focused on election planning
Regarding the next election, Mr Varadkar has said his preference is still a summer election "for a lot of reasons" but it may not be his or Fianna Fáil leader Micheál Martin's call.
He said he has not discussed any dates with any government minister but that does not mean ministers will not speculate.
The Taoiseach said his attention at the moment is not on election planning but is focusing on doing his day-to-day job.
"When this Government was formed I don't think anyone thought it would last this long. The reason it has is because of a truce between the two main parties over Brexit".
He said there now essentially is "Brexit moving on to another phase. What we have achieved is avoiding a hard no-deal Brexit."
He added that they will have a new government for the new phase of Brexit.
As Fine Gael leader, he said, there are people he has had to take off the election ticket for next year.
He refused to comment on who they are and whether it included Wexford by-election candidate Verona Murphy, following her controversial comments about migrants.
"That is not decided but there may be others to come."
He said there is a process to follow and he is taking a different approach.
"The approach I've taken, where there has been a lapse in ethical standards is to take people off the ticket."
He hit out at Fianna Fáil claiming the same is not being done by that party.
"These people are not only still on the ticket. They could be made ministers. Why aren't Fianna Fáil taking these people off the election tickets? They should be, surely."
Border poll 'would be divisive'
The Taoiseach said he spoke to British Prime Minister Boris Johnson last night about Northern Ireland and their efforts to get the Stormont Executive up and running by 13 January.
It follows the results of the UK election with nationalist MPs in Northern Ireland outnumbering unionists for the first time.
He said a border poll is not an option as to have one now "would be divisive", but he did not rule out the possibility of one "down the line".
He said for the foreseeable future the focus must be on the Good Friday Agreement and all sides should be recommitting to it.
"The philosophy behind it is power-sharing and that the vision is as strong and relevant now even if politics is changing."