Independent TD and former Minister for the Environment Denis Naughten has said the carbon tax should not be increased until 2023, in order to give people more time to make behavioural changes.
Speaking on RTÉ's The Week in Politics, Mr Naughten said that rural Ireland will be forced to "disproportionately" pay for the planned increases in carbon tax in the forthcoming budget.
He said people in Athlone, for example, have no public transport alternatives to travel to and from work, while people in parts of Dublin "have a bus every five minutes."
However, Minister for Justice Charlie Flanagan told the same programme that there will be mitigation measures included in the Budget, to ensure the burden of carbon tax rises does not fall unfairly to any particular group.
"We cannot have a situation in our country where one sector of the community is disproportionately affected," he said.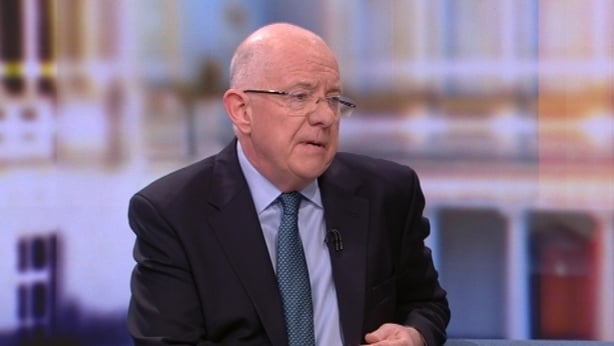 Carbon tax is currently set at €20 per tonne of CO2, and is charged on many day-to-day expenses like petrol and diesel, as well as home heating.
An all-party Oireachtas committee has recommended that it is increased to €80 by 2030.
Rises of between €5 and €10 are expected in the forthcoming Budget, which the Taoiseach has said would be ring-fenced to spend on environmental initiatives.
.@DenisNaughten talks about #CarbonTax and says he wouldn't put it up this year. #Budget2020 #rtepolitics #rtetwip pic.twitter.com/GV3PvsK14i

— The Week in Politics (@rtetwip) September 29, 2019
Asked if measures should be put in place to return some of the cost to lower income households, Mr Naughten said: "The objective behind carbon tax is supposed to be that the money doesn't come in, in the first place, because you bring in the behavioural change."
He said: "I wouldn't put it up this year. What I would flag is that in 2023 it would increase by €20 per tonne. By doing that you set a long term objective so people know over time that carbon tax is going to increase."
Fianna Fáil Justice spokesman Jim O'Callaghan said the threat of climate change is an existential crisis and that further carbon taxes cannot be put off any longer: "We cannot just politically keep putting our head in the sand, saying 'we'll put this off for another couple of years'," he said.
"Some people in the political establishment are trying to turn the carbon tax into water charges, so we have to ensure that it doesn't happen.
"We can't say that because there was a problem with water charges that there can never be an increase in carbon tax," he said.
Social Democrats TD Roisin Shortall said the Government has not followed through on a cross-party recommendation to assess the impact of a carbon tax on the poorest families in the country.
"One of the objectives of a carbon tax should be to encourage people to change their behaviour.
"But not everybody can change their behaviour. For low income families you need an upfront payment to draw down the grants that are there," she said.