A woman who was offered reduced rent in return for sex with her landlord has spoken of her shock at receiving such a proposition.
The issue was raised in the Dáil by Solidarity TD Ruth Coppinger, who said the issue of sex being accepted as rent was becoming a reality in Ireland.
The young woman, known as 'Laura', was renting a bedsit in Dublin and some of the messages from her landlord were read out in the Dáil by Ms Coppinger.
In an interview with RTÉ News, 'Laura' said: "Four days before I was leaving the house he sent me messages asking me if I wanted to live with him. I thought he was joking." 
Laura said when she asked him if he was being serious, he replied that he was. She said she was shocked when she received them.
"I'm working and I really want to pay for my rent like another person. I was very shocked when he asked me this. I felt like a sexual object," she said
"My body costs the same amount as the rent"
'Laura', who wishes to remain anonymous, said they were not the first texts of this kind.
She said when her flatmate went on holiday, the landlord said he may pop in to see how things were.
"I got a bit scared because he had the keys of the apartment so I was locking the door," she said. 
We need your consent to load this rte-player contentWe use rte-player to manage extra content that can set cookies on your device and collect data about your activity. Please review their details and accept them to load the content.Manage Preferences

He also sent a message when she was going on holidays expressing fear she would "run off with another guy".
Asked why she agreed to speak about her experience, 'Laura' said she did not believe she was the only one to experience this and it was due to the housing crisis.
She said she wanted to tell other women that they were not alone, tenants could make these issues public and people should speak out against it.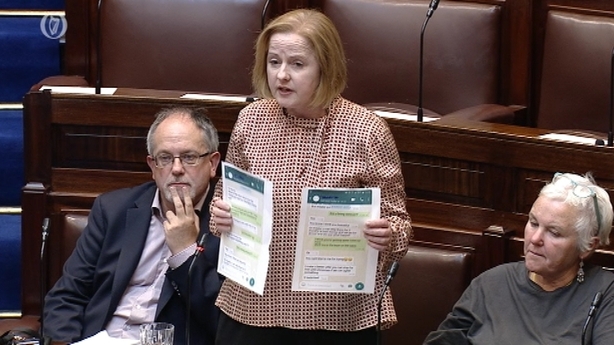 Housing Minister Eoghan Murphy is to speak to the Justice Minister about collating data on tenants who are propositioned for sexual favours in exchange for free rent. It comes as the Dáil heard the issue of sex being accepted as rent is becoming a reality in Ireland pic.twitter.com/9KA4vbEIm0

— RTÉ News (@rtenews) September 18, 2019
Minister for Housing Eoghan Murphy described reports of sex being offered for rent as "disgusting" and said it was a criminal matter.
Replying to Ms Coppinger, he said: "That sounds disgusting and a horrible thing for someone to have to go through. It is absolutely a matter for the gardaí and a criminal matter and I hope that it is being addressed in that way."
Later, the minister said he had attempted to make contact with Ms Coppinger about her claims in the Dáil.
Speaking to the Committee on Housing, Planning and Local Government, he said his office was contacting the Department of Justice to see how statistics could be compiled in this area.
Mr Murphy said a number of people are vulnerable because of the housing shortage, which, he said, the Government was trying to address.
He was responding to Solidarity & Socialist Party TD Mick Barry, who asked the minister what steps the Government would take to ensure that people in such a situation were safe to speak out without fear of eviction.
Mr Barry said in Britain there were 250,000 estimated cases of this type of situation, and he said there were many other cases here in Ireland too.
He said he would be "stunned" if this was the only case in Ireland and he said now was the time for people to speak out about their experiences.
The Rape Crisis Centre said there was evidence of this kind of sexual harassment, but that data must be gathered to show the extent of the problem.
Reporting Ailbhe Conneely and Aisling Kenny