Sinn Féin leader Mary Lou McDonald has said British Prime Minister Boris Johnson has a "Brexit fantasy that is profoundly stupid and immeasurably dangerous".
Speaking at the party's annual pre-Dáil away-day in Dundalk, Co Louth, she said: "British Prime Minister Boris Johnson follows a fantasy in which the rights and interests of the Irish people can be cast aside.
"It is time to call Mr Johnson's fantasy for what it is - profoundly stupid and immeasurably dangerous.
"Mr Johnson's stupid, dangerous fantasy cannot become Ireland's nightmare because Brexit is a very English problem and the consequences of it cannot be shifted on to Ireland."
She added: "As the 31st of October approaches, neither the Taoiseach or Michel Barnier can blink in the face of Tory intransigence because too much is at stake.
"Despite Mr Johnson's claims to the contrary, the path he is leading would lead us to a hard border.
"The British Prime Minister needs to hear this. The Irish people will not allow our country, our communities, our economy or our peace to be vandalised by him.
"There can be no return to a hard border customs checks, no more division on this island to suit the needs of a British government that has no interest in Ireland's future."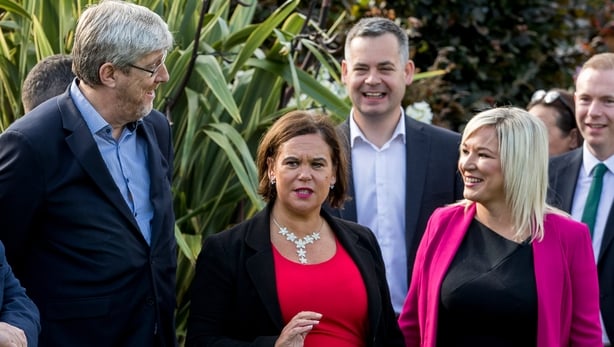 Ms McDonald described a Northern Ireland-only backstop as not perfect but the least worst option in the context of Brexit, and the DUP who, she said, did not speak for the majority, would recognise this if it was representing society well.
She added there should be no veto for the DUP or the assembly when it comes to delivering bottom-line protections.
Ms McDonald also told party members that Taoiseach Leo Varadkar and Fianna Fáil Micheál Martin are in Government together and have presided over crises in peoples' lives by delivering weak government. 
She said there will be theatre and posturing between the two parties during budget negotiations but Fine Gael and Fianna Fáil are in there together. 
On her party's recent electoral performances, she said they had taken stock and were ready for the new Dáil term.
The #sinnfein president @maryloumcdonald addresses delegates at party Away Day in Co Louth. #rtenews #rtepolitics pic.twitter.com/vlTAZ6cfYN

— Joe Mag Raollaigh (@joemagraollaigh) September 11, 2019
Additional Reporting Joe MagRaollaigh