A proposal for Ireland's special forces to join the UN mission in Mali has been approved by Government at today's Cabinet meeting.
The proposed deployment on the MINUSMA (Multidimensional Integrated Stabilization Mission in Mali) mission will now be put to the Dáil.
If approved, the Army Ranger Wing will serve abroad on a mission for the first time in more than a decade.
The memo from the Minister of State for Defence proposed that a team of 12 Rangers would conduct long-range intelligence gathering patrols.
The team would work closely with the 400-person German contingent in MINUSMA.
MINUSMA comprises 15,000 personnel, 13,000 of whom are military personnel drawn mainly from African states and Bangladesh.
The Army Ranger wing has previously served abroad in East Timor and Liberia, but has not been deployed overseas since serving in Chad in 2008.
The proposed move by Minister Kehoe to deploy the special forces unit in Mali, which was first reported by RTÉ in January, has been under consideration by the Defence Forces and the Department of Defence for some time.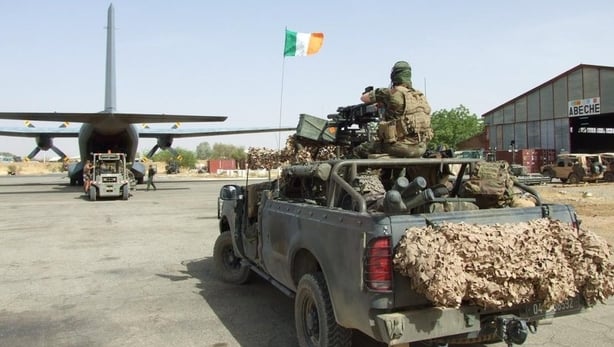 Approval by the Dáil would fulfil Ireland's "triple lock" conditions for overseas deployment of 12 or more soldiers as a UN mandate and Government approval for the mission are now in place.
The UN mission was established in Mali in 2013 in response to an upsurge in violence in northern Mali involving Al Qaeda-affiliated groups.
The violence has since moved southwards into to the centre of the country.
Groups with links to the Islamic State militants are also active in Mali.
The number of people killed in the conflict quadrupled between 2015 and 2018 due to the spread of the fighting.
The MINUSMA mission was dubbed "the most dangerous" UN mission by The Washington Post.
Almost 200 peacekeepers have been killed serving on the mission since it was established.
Ambushes and Improvised Explosive Devices (IED's) have inflicted many of the casualties.
There are 20 members of the Defence Forces currently serving in Mali as part of a separate EU Training Mission (EUTM), which instructs the Malian Army in bomb disposal, human rights law, anti-ambush and urban combat tactics.