All three seats in the Northern Ireland European elections have been filled with Alliance's Naomi Long and Sinn Féin's Martina Anderson elected on the fourth count.
The DUP's Diane Dodds had earlier been elected on the third count.
Ms Anderson topped the poll for Sinn Féin on the first count, but Ms Dodds was the first candidate to pass the quota following the elimination of the Ulster Unionist candidate Danny Kennedy.
We need your consent to load this rte-player contentWe use rte-player to manage extra content that can set cookies on your device and collect data about your activity. Please review their details and accept them to load the content.Manage Preferences
Ms Long, who becomes the first ever Alliance Party MEP, took the second seat, the transfers of SDLP's Colum Eastwood lifting her above Anderson.
The incumbent Sinn Féin MEP took the third seat.
It is the first time Northern Ireland has elected three women MEPs.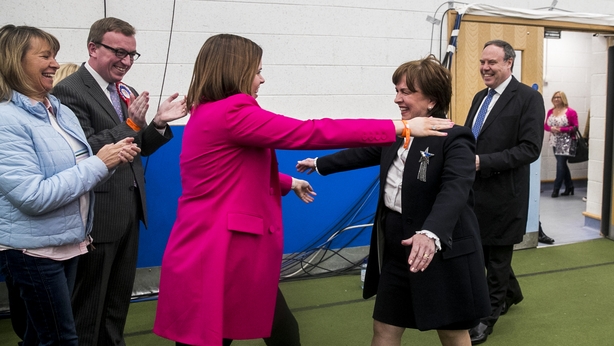 Ms Long was given a rapturous welcome by party supporters as she arrived at the count centre.
"I am speechless for once," she said, "I am really delighted, I am thrilled."
The former East Belfast MP said the size of her vote was "beyond expectations". Her voice broke as she thanked the people who voted for her.
"I take it really seriously and I will serve them to the absolute best of my ability - they have my word on that," she said. Ms Long said the pro-Remain vote across the UK was the strongest it had been for years. She expressed confidence Brexit could be stopped.
"I think we can and if we don't it won't be for a want of trying," she said.
The former Belfast mayor said she would remain Alliance leader despite having to give up her seat in the Assembly, expressing hope the term in Europe would prove to be five years.
Confirmed. NI has 3 women MEPs for first time in Euro election history @M_AndersonSF @naomi_long + @DianeDoddsMEP @rtenews @rtepolitics @chrisadonnelly pic.twitter.com/AsvRY3GlFP

— Vincent Kearney (@vincekearney) May 27, 2019
"There will be no one more delighted than me if this ends up being a five-year term," she said.
She said Alliance was benefiting from public disaffection with traditional politics in Northern Ireland.
"I think people are tired of the fact that the stale politics of the past isn't delivering and I think what we are offering for people are solutions to the problems we have, not just more problems," she said.
"I am totally blown away by the result."
Eleven candidates were on the ballot paper in Thursday's election. Votes were sorted and verified on Friday ahead of today's count.
Despite the intense focus on Northern Ireland in the Brexit debate, the turnout of 45.14% is down more than 6% from the 2014 election.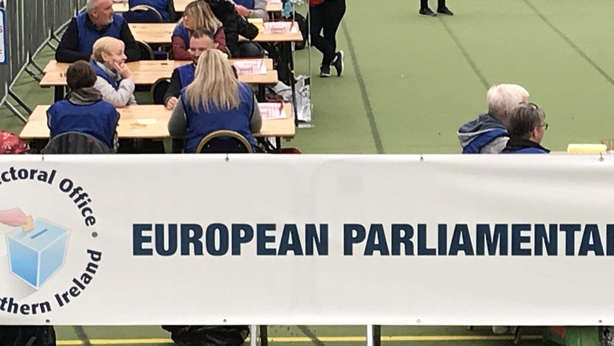 Sinn Féin leader Mary Lou McDonald hugged Ms Anderson upon arriving at the centre.
"I think it was very important that a pro-Remain candidate topped the poll," she said.
"I think this result is a resounding rejection of Brexit again. It sends the clearest possible message that people here in the north of Ireland have not consented and do not consent to Brexit and I hope London and Mrs May, and whoever will prove to be Mrs May's successor, hears that message loud and clear and understands that the DUP, while they have a democratic mandate, do not speak for the majority of people who live in the north of Ireland or indeed across the island.
"I think this is a vindication of the politics of Remain, I think it is vindication of the politics of common sense, it's about us standing together collectively and protecting our rights and interests."
---
Read more: Live - Euro counts continue, mixed mayoral results
---
Arriving at the count centre, DUP leader Arlene Foster said: "Of course, we would have preferred to have had two unionist MEPs returned - what we have instead is a nationalist MEP, a very strong unionist MEP and an MEP who identifies as neither.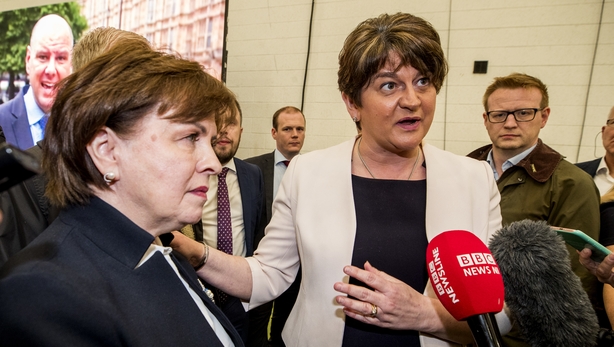 "When I look at the votes, which I think is very important, I notice that unionism is still ahead by over 40,000 votes and of course I am very pleased about that.
"Obviously we would have preferred to see two unionist MEPs returned but I am absolutely delighted with our turnout today and the fact our vote has increased again."
Asked to explain the Alliance surge, Mrs Foster said there were a number of factors, including a low turnout and her contention that some people who voted Leave felt it unnecessary to register their view a second time.
"We found that when we spoke to people they said 'we have already voted, we told what you want, we want out of Europe'," she said