The Government has been accused of failing beef farmers at a time when the sector has lost €100 million as a consequence of Brexit.
Around 350 farmers staged a noisy protest outside a meeting of the Cabinet in Cork this morning.
Taoiseach Leo Varadkar was met with shouts of "where's the beef, you vegan" as he arrived at City Hall.
Asked about the heckles this morning, @LeoVaradkar replies 'I am not a vegan actually." https://t.co/9CVAD1PMxi

— Paul Cunningham (@RTENewsPaulC) May 1, 2019
Irish Farmers' Association President Joe Healy accused politicians of not delivering on their promises and said farmers will judge them on their elections in the upcoming European and local elections.
He said that politicians have been "promising big" on Brexit losses.
"Farmers are angry with the inaction from the Government and the EU Commission. Farmers have already taken a huge hit from Brexit related losses. They need help now," he said.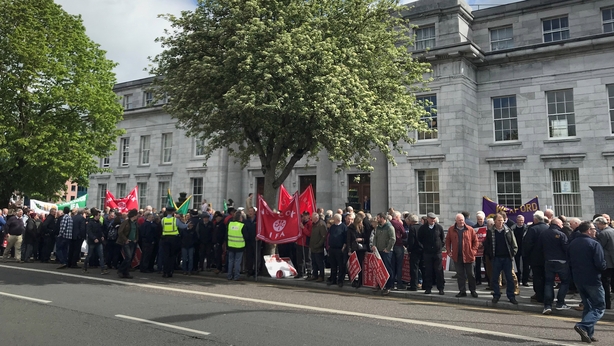 One beef farmer told Tánaiste and Minister for Foreign Affairs Simon Coveney there needs to be a clear statement from the Cabinet meeting that "they're going to support beef farmers in their hour of need, which is right now".
The Tanaiste @simoncoveney hears from @IFAmedia beef farmers outside City Hall in Cork where Cabinet meets pic.twitter.com/KPhMZDq20F

— Paul Cunningham (@RTENewsPaulC) May 1, 2019
Mr Coveney said the Government was aware of farmers' concerns, but any solution had to involve Brussels - something they were working on.