The Taoiseach has said that he welcomes next week's proposed strike by school children on climate change. 
Leo Varadkar said he was "inspired and enthused" that school pupils are taking a real interest in climate action, and are "putting it up to all of us in all parties, all adults, to do more when it comes to climate action". 
He was responding to Solidarity/People Before Profit TD Paul Murphy who called on him to make public transport free in an effort to tackle climate change. 
Mr Murphy said it was "great" that the Taoiseach was supporting the proposed school strike, and that "school students across the country should take that as a green light to walk out Friday week in protest at climate inaction.
"That's what a school student strike is about," Mr Murphy added.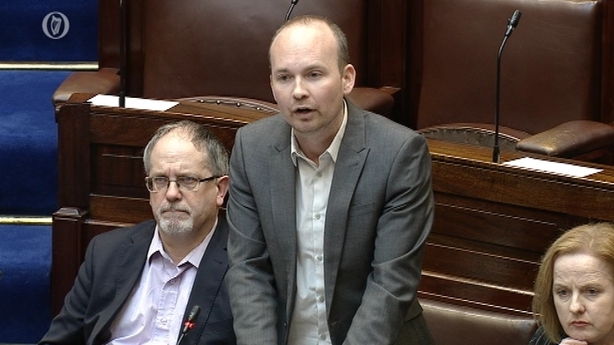 School pupils have held regular demonstrations outside the Dáil in recent months, and are planning a one day strike on 15 March.
The strike follows demonstrations by a 16-year-old Swedish student Greta Thunberg, who proposed the first school strike for climate change last year.
Demonstrations by school children in several countries followed and  the "Fridays for Future" movement is planning a coordinated, global strike on 15 March.
Mr Murphy told the Taoiseach that the cost of making public transport free would be €600m a year - the same amount that Ireland faces in EU fines.
WATCH: @campaignforleo says he's "inspired and enthused" at school pupils planning to strike on March 15 on climate change, "putting it up to all of us ...to do more", responding to @paulmurphy_TD who says pupils should take this as "green light to walk out" over climate inaction pic.twitter.com/Vefw8Ma9i0

— RTÉ Politics (@rtepolitics) March 5, 2019
However, Mr Varadkar said public transport was already at full capacity, and that the Government was using funds to increase capacity.  
Mr Murphy said the system and policies that the Taoiseach defended were incompatible with dealing with climate change.
He said: "An economy that continues to be based on the drive for profit of individual companies which treat nature and the damage to nature as an externality cannot deliver the rapid change that we need in the economy.
"Using climate change as a green washing exercise to try and introduce more regressive taxation will not wash with people whatsoever, because they know that the polluters are precisely the top companies responsible for 63% of emissions." 
In response, Mr Varadkar told Mr Murphy that "socialists are no friends of the environment".
"Look how you opposed water metering and charges. Look how you now deny that a carbon tax is part of the solution to climate change. You listen to those students too. You ask them what they think about water conservation, what they think about carbon tax." 
A spokesperson for the Taoiseach defended his comments, saying he has "always been a supporter of youthful engagement in politics" and "he commends their spirit".