Tánaiste and Minister for Foreign Affairs Simon Coveney has defended the renewal of the Confidence and Supply Agreement.
Yesterday, Fianna Fáil leader Micheál Martin told the Dáil that his party would guarantee that the Government could continue throughout 2019, and a general election may be held in early 2020.
The agreement has kept the minority Government in place since May 2016.
Mr Martin said that Ireland was in a period of heightened danger over fears created by a hard Brexit, and that the political chaos in London should not be allowed to spread to Dublin.
Today, Mr Coveney said that Fianna Fáil had recognised the political uncertainty in the UK, and that it was "an unusual arrangement which responded to a national challenge".
However, Sinn Féin's Finance Spokesperson Pearse Doherty criticised Fianna Fáil, and said Mr Martin had abandoned people who were struggling.
He said that not one house would be built or hospital bed opened as a result of the extensions of the agreement.
He accused Mr Martin of being afraid to face the public and said the deal did not give security and stability to those in need.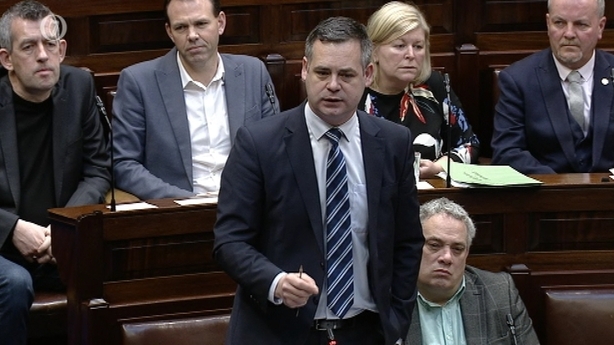 Mr Doherty said Fianna Fáil and Fine Gael had failed to support amendments to support homeless people, and that their deal represented "more of the same".
The Tánaiste said that the Government had a five-year housing plan, and that new legislation would be introduced by Minister for Housing Eoghan Murphy to empower the Residential Tenancies Board to give more protection to tenants.
Fianna Fáil's deputy leader said the extension of the agreement was in the national interest.
Dara Calleary said he did not believe that Brexit would be resolved by 24 May 2019 and that Fianna Fáil had given political stability to the country in order to get through the first phase of Brexit.
Mr Calleary denied the Government had been handed "a blank cheque".
He added that the deal gave space to the Government to "get its finger out" and put an implementation plan in place to get through Brexit.