The Minister for Housing has acknowledged there is a serious housing crisis as the Dáil debates a private members' motion on the issue.
However, Eoghan Murphy reiterated that emergency responses were being put in place.
He was responding to the Solidarity/People Before Profit motion, which seeks a declaration of a housing and homelessness emergency.
The motion has cross-party support, including that of Fianna Fáil. The debate takes place following a large protest in Dublin to highlight the housing crisis.
The minister said the Government needed to do more and to do better. He said it was unacceptable that children would sleep in hotels tonight.
The minister said while he supported people who protest, he pointed out that those in the Oireachtas were not protesters, but politicians.
He said the mandate did not fall solely to the Government but all public representatives.
Mr Murphy said the Government had no "ideological position" in relation to housing and sought "common ground" amongst TDs in relation to local opposition to housing.
He called on TDs to work with councillors in their own parties or councillors they have influence over to make sure they are not opposing the building of houses and let the planners do their work.
Solidarity/PBP has called for a large increase in capital spending on housing in Budget 2019.
It also wants evictions to end and for empty properties to be used for housing.
The motion suggests increasing the proportion of public and affordable housing in private developments and rent controls.
Solidarity/PBP TD Richard Boyd Barrett said the Government had seven years of warnings, pleading and appeals from the opposition to break its addiction to the private market and he called on the minister to "change tack". 
We need your consent to load this rte-player contentWe use rte-player to manage extra content that can set cookies on your device and collect data about your activity. Please review their details and accept them to load the content.Manage Preferences
Sinn Féin's housing spokesperson says the Raise the Roof housing protest 'marks the beginning of a mass movement demanding change' pic.twitter.com/wZqrkGaGE8

— RTÉ News (@rtenews) October 3, 2018
Sinn Féin's housing spokesperson has said that the protest outside Leinster House this afternoon marked the beginning of a mass movement over the housing crisis.
Eoin Ó Broin said: "Rebuild Ireland has failed. That is the view of thousands of people who gathered outside the Dáil today.
"Raise the Roof was not just another march. It marks the beginning of a mass movement demanding change.
"The Irish Congress of Trade Unions and all of their affiliates, the Union of Students of Ireland, the entire homeless sector, grassroots campaigning groups, Take Back the City, and the entire opposition have spoken today with one voice and we are telling you that your housing policy is not working."
Fianna Fáil's housing spokesperson Darragh O'Brien confirmed his party would support the cross-party motion.
Mr O'Brien cautioned over political parties playing political games, saying this would not build additional homes, but constructive actions would.
"There is no silver bullet but there are better policies. We support this motion in that spirit of urgent decisive action," he concluded.
The debate on the motion has concluded and a vote will take place tomorrow.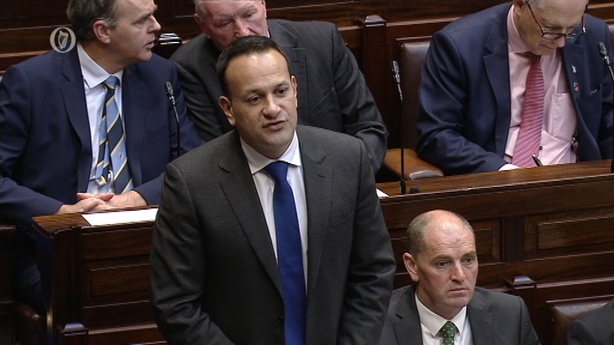 Earlier, Taoiseach Leo Varadkar defended the Government's handling of the housing crisis.
He was responding to questions from the Fianna Fáil leader in the Dáil, who said the lack of housing and level of homelessness was an appalling blight on society and represented an emergency.
Micheál Martin put it to Mr Varadkar that it demanded "urgent, effective and targeted action".
The Taoiseach said he was already on the record saying it was an emergency, adding: "If it wasn't an emergency we wouldn't be spending €60m a year putting people up in emergency accommodation."
However, he said calling it an emergency did not solve the problem.
Mr Varadkar said there was delivery on housing, as nearly 20,000 new homes and apartments would be built this year, which he said was more than last year and the previous year.
"I'm frustrated too, as is everyone in Government, we share those concerns and frustrations and share the desire to get results", he said.
Mr Varadkar described as "absolute bunkum" the suggestion that his party or the Government were ideologically opposed to building social housing.
Sinn Féin leader Mary Lou McDonald also called on the Taoiseach to declare the housing crisis a national emergency.
She said: "Later today we'll debate a cross-party motion calling on you to officially declare the housing crisis an emergency. 
"You should do that and act accordingly."
Ms McDonald said the Government should double capital investment in housing, and accused it and Fianna Fáil of living in a "fools paradise" with its current housing policy.
Mr Varadkar said he acknowledged that the country faces a housing crisis and "because it's an emergency the country has taken emergency action".
He said the Government has introduced measures to fast track planning and control rents.
He said Sinn Féin has no credibility on housing as its councillors all over the country have voted down social housing proposals.
Mr Varadkar said: "This is a crisis, this is an emergency, and therefore we will try to provide accommodation around the country by any method possible."
Meanwhile, Solidarity-People Before Profit TD Bríd Smith called on TDs who are landlords to abstain from voting on her group's private members' motion.
She said there was a "conflict of interest" that was "immoral".
Ms Smith said that at least 30 TDs were landlords and benefit from the subsidies, which she said would grow to €1bn next year.
She called on the Taoiseach to instruct TDs who are landlords not to vote on the motion because they would compromise themselves, and the Fine Gael and Fianna Fáil parties.
Mr Varadkar said he led a Government containing at least two Cabinet ministers who grew up in council homes and were proud of it.
He said the Government also likely included people who are landlords.
Additional reporting: Justin McCarthy