NAMA has built 25% of the houses constructed in Ireland in the last four years, agency chairperson Frank Daly has said.
NAMA executives were before the Public Accounts Committee this morning where Sinn Féin TD David Cullinane asked them how many housing units have been completed and delivered by the agency.
Brendan McDonagh, NAMA CEO, said: "We have close to 8,000 funded directly and there is another 2,500 built on land which was in NAMA that our former debtors in NAMA have built on. So it is about 10,500 units."
He said those 10,500 units are mainly private, but if they were subject to new planning permissions 10% would be social housing.
Mr Daly added: "There are people living in each of those ten thousand houses. And in the past four years NAMA has delivered roughly 25% of all the housing that was delivered in this country, even though we were not set up as a housing agency.
"In terms of overall performance, if you go back to the number of houses being delivered each year since 2014, you will find that the ones delivered directly and indirectly by NAMA is 25%."
Labour TD Alan Kelly asked the NAMA executives how long they expect the agency will exist for.
Mr Daly said that this is "the imponderable" as there are a number of "strategic sites" in the remaining loan portfolio.
He cited the site of the glass bottle site in Dublin as an example of such a site and added: "It would be short-sighted to dispose of those sites now as NAMA would get better value for them."
Mr McDonagh earlier said the agency has limited room for manoeuvre when to comes to funding private residential housing development.
"Judging by some of the public discussion on housing, I am not sure that it is widely understood that the State has limited room for manoeuvre when it comes to funding private residential development," Mr McDonagh said.
He told the committee that if a State body is in the business of funding the delivery of private housing, it is required to operate on the same commercial basis as a market operator.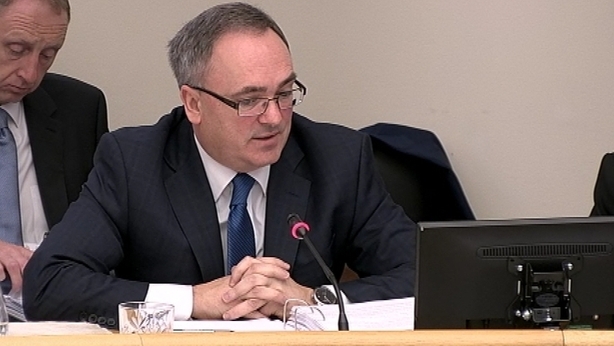 "That means that, under State aid rules, a State body cannot fund the development of sites that are not commercially viable to develop for private housing, regardless of the scale of the supply shortfall in Ireland.
"Nor can it subsidise residential development by means of low interest rates or other special concessions that the market would not countenance," he added.
As a result, he said the ability of any State body, including NAMA, to fund the delivery of housing is limited to those sites which are commercially viable at any particular point in time.
However, Mr McDonagh said the agency was focused on delivering housing from sites under their remit.
"We remain focused on maximising the delivery of housing from sites controlled by our debtors and receivers.
"I believe that the almost 8,000 units that NAMA has directly funded since 2014 represents a significant contribution to housing supply," Mr McDonagh said.
He said that they are now focused on exerting as much value as possible from their residual portfolio and also the delivery of as much housing as is commercially feasible from the loans attached to debtor and receiver sites.
He said the agency had generated a total of €8 billion in cash in 2016 and 2017 and this was used to redeem €8.1bn of senior Government-guaranteed debt - the last tranche of which was paid in October 2017, some three years ahead of schedule.
NAMA's CEO also spoke candidly of the pressure he was put under by the Troika in 2011 to sell assets, telling the committee that he had "40 people in a room shouting across the table" at him.
"I used to attend meetings every six months with the Troika with 40 people in the room, the IMF, the European Commission and the ECB. And they would be shouting across the table at me, saying why aren't you selling more? Why aren't you generating the cash? You are too slow at generating the cash," he said.
He also said there had been little coverage of the sales where the agency had done "spectacularly well".
He gave an example of an asset he had recently sold for €30m, which he had been offered for €10m 18 months ago.
"So we got three times the value of 18 months ago by changing our minds and saying we are not selling at that point in time," he said.