Senator Joan Freeman has been endorsed by Cork City Council for a nomination to run as a candidate in the Presidential Election.
At a meeting of Cork City Council tonight, she received the votes of 14 councillors.
There were 11 abstentions.
There were no votes cast for any of the other prospective candidates.
Ms Freeman has said she was "overwhelmed" and "surprised" after receiving the council's backing.
Ms Freeman said she believes she can receive another three endorsements from local authorities following tonight's decision.
In 2011, Cork City Council endorsed Sean Gallagher as a candidate for the presidency.
Mr Gallagher did not attend tonight's special meeting of the council, and the council only voted on the six prospective candidates who addressed the meeting.
The @PietaHouse founder @SenJoanFreeman has secured the endorsement of @corkcitycouncil for nomination as a candidate in the #Aras2018 election. She secured the votes of 14 councillors. There were 11 abstentions and no votes for any of the other prospective candidates. @rtenews pic.twitter.com/4JVvNGD07j

— Paschal Sheehy (@PaschalSheehy) September 3, 2018
Earlier, businessman Gavin Duffy received the backing of Meath County Council to contest the Presidential Election.
Mr Duffy secured 17 votes, businessman Seán Gallagher seven, and Independent Senator Joan Freeman two votes.
Those hoping to be candidates require the support of four local authorities or the backing of 20 members of the Oireachtas.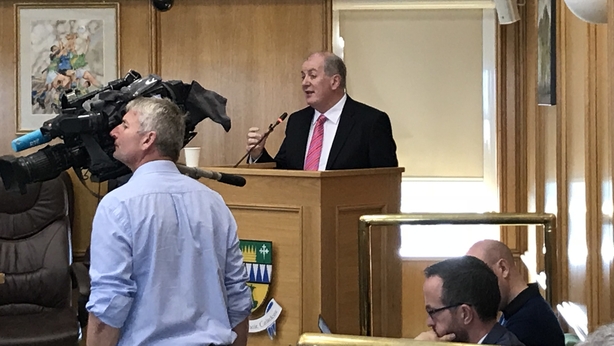 Nine members of Fine Gael on Meath County Council decided to ignore a request from party headquarters and voted for Mr Duffy, the other eight votes he received came from Independents and non-party candidates.
Speaking to RTÉ News after securing the backing from the council, Mr Duffy said he was delighted to receive their backing and described it as special because it is the first council to declare.
He said it was significant that he got support from Fine Gael, Fianna Fáil and independent councillors.
Mr Duffy said fellow presidential hopeful Sean Gallagher just got support from Fianna Fáil members and that he was becoming the "quasi-Fianna Fáil" candidate.
He also said he is confident he will get the backing of four councils to get on to the ballot paper, and that if he got the support he would free up other councils who would have supported him to back other candidates.
After the vote, Fine Gael councillor Sharon Tolan, from Bettystown, who voted for Mr Duffy said she thought it was a mistake for Fine Gael not to contest the election with its own candidate.
Ms Tolan said if the nine Fine Gael councillors had not voted the way they did, the man she described as the unofficial Fianna Fáil candidate, Seán Gallagher, would have won the nomination despite the fact he had not attended the council meeting last week.
Prospective presidential candidates are addressing meetings of a number of local authorities today including Kerry, Cork, Leitrim, Meath, Wexford and Wicklow in a bid to secure their backing.
Earlier, Mr Gallagher told Leitrim County Council that what happened on 11 October 2011 in the Frontline studios in RTÉ changed the outcome of the presidential election.
He told councillors that on that evening he let himself and them down and for that he is truly sorry. Leitim County Council nominated him as a candidate in the 2011 presidential election.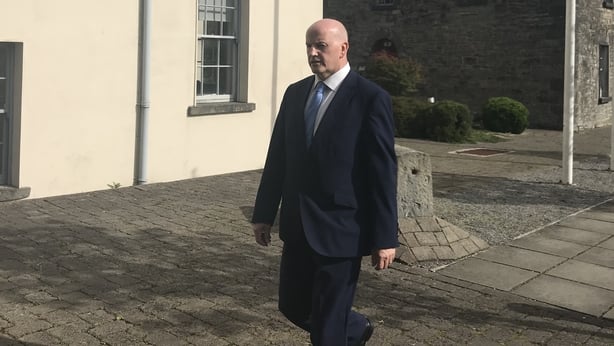 Mr Gallagher said that when the false tweet from a fake account was put to him by Pat Kenny this allowed Sinn Féin's Martin McGuinness to put the allegation in relation to fundraising to him again.
"This caused me to doubt my memory and to some I appeared unconvincing," he said.
"People saw me as someone I am not" he said and he apologised to those who changed their vote because of how he appeared. Mr Gallagher is one of a number of potential nominees expected to address the meeting today.
On his way into the meeting, Mr Gallagher said he was excited and delighted to be there and have the opportunity to present his vision for the presidency for the next seven years to councillors.
Businessman Peter Casey, as well as performer Sarah Louise Mulligan were also at Leitrim County Council to make presentations to councillors to seek nominations to run for the presidency.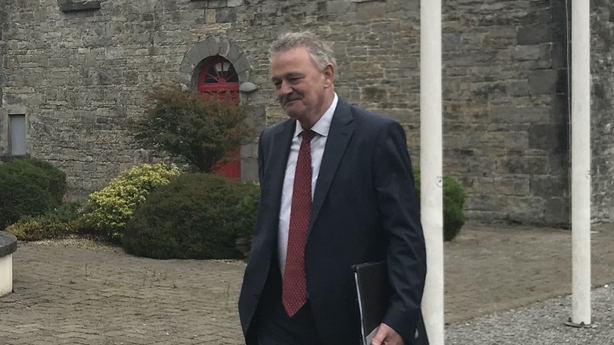 It is expected that following the presentations at this morning's meeting councillors will set another meeting at which to discuss the issue of endorsing a candidate.
Presidential hopefuls making their pitch to secure a nomination for the forthcoming election #Aras18 pic.twitter.com/c4Fao5phX2

— Leitrim Co Council (@leitrimcoco) September 3, 2018
A special meeting of Kerry County Council took place this morning to hear from Gavin Duffy, journalist Gemma O'Doherty, musician Jimmy Smyth, and a representative of the campaign aiming to raise the case of William Delaney, who died in State care in 1970.
Mr Duffy told councillors he wants to use the 'soft' power of the presidency to listen to the people and to help channel their ideas and concerns through the platform of the presidency.
Mr Smyth said he would raise the profile of the arts and that while President Michael D Higgins had done great work for the arts, there was more that could be done.
Ms O'Doherty is campaigning on an anti-corruption platform. She said she has spent the past decade exposing corruption, principally in An Garda Síochána.
She refused to discuss the basis for her allegation that Veronica Guerin had been murdered by the State.
The council has deferred formal nomination of a candidate until 17 September.
Cork City Council will meet at 7pm and, in addition to hearing from Mr Duffy, Ms O'Doherty and Mr Smyth, it will also hear from Ms Freeman, Co Roscommon farmer John Groarke and Ms Mulligan.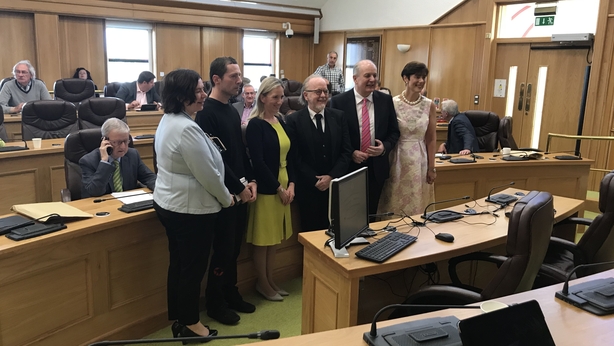 After the council has heard from prospective candidates, councillors will decide whether the council will nominate a candidate.
If the council decides to do so, a second vote will take place on a proposed nominee.
If the vote is carried, a formal resolution approving the nomination will be taken at the council's meeting on 10 September.
Elsewhere Sinn Féin MEP Liadh Ní Riada has spoken about increasing speculation that she will be her party's candidate for the presidency.
The party will be officially announcing its candidate on 16 September.
Speaking to RTÉ News she said it is a decision for the party and everyone would have to wait until all the nominations are in and the process is completed.
Asked if she was interested in running for the presidency she said it would be a huge honour to be held in such regard by her party and colleagues.
She added she would prefer not to comment until the process is completed.
The sitting president can nominate himself to contest the election.
President Michael D Higgins is seeking a second term in office.
The election is to be held on Friday 26 October and nominations will have to be submitted by 26 September.