Northern Ireland has reached an unwelcome milestone as it notched up 589 days since the power-sharing executive at Stormont collapsed.
The day was marked by a series of public protests.
The #wedeservebetter events were held in cities and towns across the North this evening.
The executive collapsed in January 2017 amid a bitter row between the DUP and Sinn Féin over a botched renewable energy scheme.
The rift widened to take in other more tradition disputes - such as the Irish language - and the parties remain at loggerheads, with no prospect of an imminent breakthrough on the horizon.
While there has been speculation over a new round of negotiations for the autumn, no date has publicly been announced.
Ahead of the demonstrations, a spokeswoman for Northern Ireland Secretary of State Karen Bradley said she "is acutely aware of the deep frustration and difficulties faced by the people of Northern Ireland and the urgent need to resolve the current impasse.
"She shares the firm view that the current situation cannot be allowed to continue and is working on options to ensure the good governance of Northern Ireland.
"The UK Government's priority is to secure a basis for political talks and re-establish a locally elected, democratically accountable devolved government at the earliest opportunity.
"In the absence of an executive, the Secretary of State continues to take the necessary decisions to protect the interests of Northern Ireland and ensure stable public finances, demonstrated by the recent Budget Act."
The crisis was triggered on 9 January 2017 when the late Sinn Féin deputy first minister Martin McGuinness quit.
The executive collapsed one week later, on 16 January, when the deadline for Sinn Féin to nominate a new minister expired.
Today marked 589 days since the latter date.
The administration limped on without a first or deputy first minister until 2 March 2017 - when a snap Assembly election was held.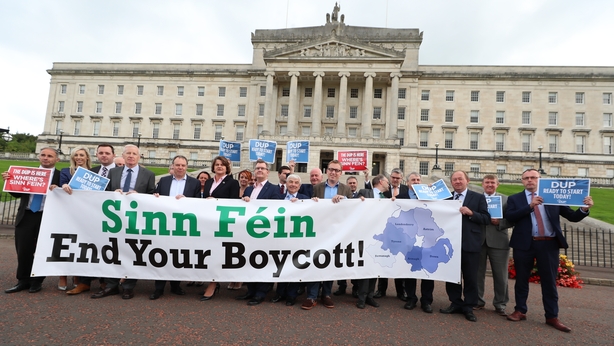 The DUP marked the milestone by unfurling a banner outside Stormont calling on Sinn Féin to end its "boycott" on governing.
Party leader Arlene Foster said she shared the frustration of the wider public.
Arlene Foster says Northern Ireland has been without an Executive for 'far too long' |  https://t.co/rqHnMQiR8j pic.twitter.com/cmHLJjMvys

— RTÉ News (@rtenews) August 28, 2018
"There is only one problem party and let's call it out - that's Sinn Féin. And they need to end their boycott here in Northern Ireland," she said.
"I share the frustrations of many today that we don't have a government here taking decisions on education and on health, on infrastructure and on the future of this country itself.
"So it's time to get back into government - long past the time to get back into government."
Ms Foster said she had still not received any indication from the UK government on when fresh negotiations might resume.
Asked if she had been informed by the government of any new process, Mrs Foster replied: "There has been no discussion around the resumption of talks."
She accused Sinn Féin of "corrupting" politics by refusing to go back to power-sharing before its "list of demands" were acceded to.
"The way to deal with this is to get into government and then have a parallel process," she said.
"I said that last August in a speech that we should set up government and if there are issues to be sorted out we should sort them out during a talks process that would run parallel to government in Northern Ireland - I think that's still the position that we should hold."
Sinn Féin's deputy leader Michell O'Neill said: "In March last year, Sinn Féin won 224,245 votes in support of our platform of 'Integrity, Equality and Respect' in government.
"Sinn Féin has worked since then to restore political institutions, which deliver for all our citizens on the basis of equality and rights and bringing to an end the DUP's financial scandals and disrespect.
"We had an agreement in February which paved the way for the re-establishment of the Executive, but the DUP reneged on this agreement and collapsed the political talks.
"The Tory government's response, with the full support of the DUP, has been to adopt a do-nothing approach to restoring power sharing," said Ms O'Neill.