The Government has been defeated in the Dáil on a Fianna Fáil motion seeking to ensure that survivors of child sex abuse in primary schools can seek redress.
The motion, tabled by the party's Social Protection spokesperson, Willie O'Dea, sought to amend the current scheme for ex-gratia payments from the State which was set up after a decision of the European Court of Human Rights.
The scheme was set up after Cork abuse survivor Louise O'Keeffe won a landmark case against the State in the European Court of Human Rights in 2014.
However, the Government appointed an independent assessor, former High Court judge Iarfhlaith O'Neill, to examine the appeals against the ex-gratia scheme following concerns from abuse survivors.
Minister for Education Richard Bruton said that the Government believes it should await the findings of Judge O'Neill.
The Government's counter motion was defeated by 84 votes to 44.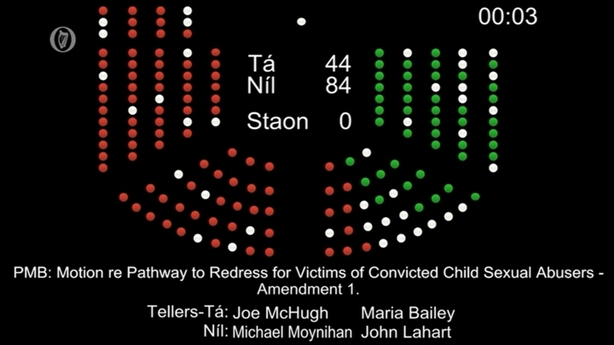 Mr Bruton added: "There is absolutely no desire on the part of the State not to pay out in the case where there are circumstances similar to those found in the judgment in the O'Keeffe case".
Mr O'Dea said their motion was a narrow one, and only applied to the victims of convicted abusers.
He said the maximum cost of any claims would be €15m.