The Dáil has concluded hearing statements on the bill introduced by the Minister for Health Simon Harris to hold a referendum on the Eighth Amendment to the Constitution.
The debate will resume on Tuesday 20 March after the break for St Patrick's Day.
Earlier today, Mr Harris introduced the bill to hold a referendum on the Eighth Amendment, saying he is "mindful of the impact" of the amendment over the 35 years since its insertion in the Constitution.
The Eighth Amendment provides for the equal right to life of the mother and the unborn.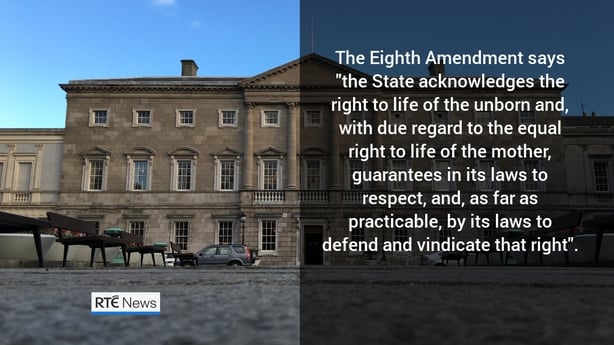 Mr Harris told the Dáil that the upcoming referendum would be about giving people a say in how this country treats women.
He said he could no longer stand over a law that was neglectful towards women in times of crisis.
The minister also emphasised that if the Eighth Amendment is repealed, the courts would still have an oversight on any new laws enacted in Leinster House.
Yesterday, the Cabinet unanimously approved the wording that will be put to the people.
They will be asked whether or not the Eighth Amendment should be repealed and replaced with new wording to be added to the Constitution "that provision may be made by law for the regulation of termination of pregnancy."
The Government is also publishing a paper committing to 21 policy principles, if the Eighth Amendment is repealed from the Constitution, in a referendum likely to be held in late May.
---
Read more:
---
During his opening statement on the second stage debate on the 36th Amendment of the Constitution (Amendment) Bill 2018, Minister Harris spoke about the Irish women waiting to go abroad for abortions today.
"Do we imagine that whatever her circumstances that this is a journey or a decision she is undertaking lightly? This is a reality today for at least 9 women in Ireland."
He said he is particularly mindful of the women whose "most painful, most personal stories we know because it forced them to court, to other countries, to courts in other countries."
"If this Oireachtas facilitates a referendum I will be casting my ballot for repeal, and asking others to do the same, because I cannot live any longer with a law that sees a woman or girl who has been brutally raped forced to continue a pregnancy or travel to another country if she cannot.
"I cannot live any longer with a law that forces families devastated by a fatal foetal diagnosis to travel to another country and bring home the remains of their much-loved, much-longed for, but lost child in the boot of a car or by courier service."
He said the bill "is about giving the people of Ireland a say on how Ireland treats women. It is about how our country treats our sisters, our wives, mothers, daughters, our friends and colleagues at a time when they most need our care."
Mr Harris outlined the provisions of a health bill, which will only take effect in the event of the referendum to repeal the Eighth Amendment being passed.
He told the house that it is proposed to permit termination up to 12 weeks of pregnancy, in line with the Oireachtas All-Party Committee's recommendation.
He added that he is proposing to introduce a time period that is required to elapse between the assessment by a medical practitioner and a termination being carried out.
Minister Harris said work is also under way in relation to the recommendations of the Oireachtas Committee on the Eighth Amendment, including counselling and support facilities for women during and after pregnancy, contraception and perinatal care.
Minister for Children Katherine Zappone has said that "as a feminist, a progressive, and a life-long activist for social justice I am proud to be part of the Government" that is bringing forward the referendum on the Eighth Amendment.
Fine Gael TD Peter Fitzpatrick described the introduction of the bill as "a very sad day."
Mr Fitzpatrick, who was a member of the Oireachtas committee, said abortion ends a life and removing the amendment would lead to more abortions and babies losing their lives.
McGrath critical of 'mad rush' towards May referendum date
Independent TD Mattie McGrath has said he had a lot of concerns about the "very rushed nature" of the legislation being put before the Dáil.
He said the manner in which the Government has dealt with the referendum bill has been "nothing short of disgraceful" adding that there was no rationale for the "mad rush to May 25th."
He said: "The question we must now ask is if we want to hand such power over to our political leaders, and can we live with the consequences if we do?"
Article 43.3.3 has not stopped terminations - Kelleher
Fianna Fáil's Health Spokesperson Billy Kelleher said there needs to be a realisation that the status quo cannot remain.
He said that we do have abortion in Ireland, it has just been displaced to other countries, so article 40.3.3 has not stopped terminations.
He said people are asking "can we trust politicians if we amend Article 40.3.3?
"Of course the corollary of that is that they are basically saying that we can't trust women because all we are going to do is to legislate to allow a woman to make a decision."
McDonald: Legislation will be subject to review of courts
Sinn Féin leader Mary Lou McDonald described repeal of the Eighth Amendment as an "absolute necessity", saying it should never have been part of the Constitution and inserting it in 1983 was a mistake.
"It is time to own up to that mistake and correct it," she told the Dáil.
"Anyone who argues that the courts have been written out of the scenario, that this is some kind of carte blanche for untrustworthy politicians, are misleading and wilfully misleading public opinion.
"Legislation that comes through this house is subject to review of the courts, full stop."
'Momentous' day says Labour's Jan O'Sullivan
Labour TD Jan O'Sullivan said this is a "momentous" day that she very much welcomes. She said we do have abortion in Ireland, we just do not have medical terminations on "the soil of Ireland."
Party colleague Joan Burton has said described the decision of the Oireachtas committee in relation to the 12-week provision as a "conservative measure."
She said some media has got carried away by indicating that it's "some kind of thing that will turn Ireland upside down."
Ms Burton said there should be confidence in proposing the 12-week provision as an appropriate situation for the vast majority of cases, where people decide to have terminations for their own reasons.
Injustice has to be corrected - Coppinger
Solidarity-PBP TD Ruth Coppinger said an injustice had to be corrected, saying the Eighth Amendment was a symbol of how women's sexuality has been controlled for far too long.
Independents4Change TD Clare Daly welcomed the recent judgment of the Surpreme Court on the unborn, describing it as "helpful and clear in its ruling."
She said the ruling did not mean the unborn had no rights, it meant the unborn did not have the equal rights as a grown woman.
The Irish language wording for the clause to be inserted into the Constitution if the Eighth Amendment is repealed has also been published.
This is important as the Irish language version of Bunreacht na hÉireann takes precedence over the English language version.
It reads as follows: "Féadfar socrú a dhéanamh le dlí chun foirceannadh toirchis a rialáil."