A new opinion poll indicates a gain in support for Fianna Fáil over the past month.
According to tomorrow's Sunday Business Post/Red C poll, the gap between the two major parties is just 3%.
The nationwide poll of over 1,000 voters was conducted between 15-22 February.
The latest findings show no change for Fine Gael at 32%.
However, Fianna Fáil is up three points to 29%.
Sinn Féin is down one point to 14%.
The Independents are up one point to 10% and there's no change for the Labour Party at 6%.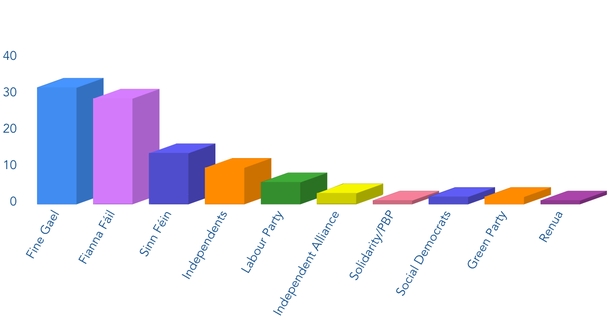 There is also no change for the Independent Alliance at 3%.
Solidarity/People Before Profit is down two points at 1% while there is no change for the Social Democrats at 2%.
The Green Party is down two points at 2% and Renua is up one point at 1%.
The rise in support for Fianna Fáil may reflect the party's recent moves to block the potential sale by Permanent TSB of 18,000 mortgages to unregulated vulture funds.
At 29% this is the highest level of support for Fianna Fáil in the Red C sequence of polls for almost two years.
This poll suggests there has been no "bounce" as yet from the election of Mary Lou McDonald as president and leader of Sinn Féin, with the party dropping one point to 14%.
Overall, support changes for parties and political groups in this poll are all within the margin of error of plus or minus 3%.