The Minister of State Patrick O'Donovan has said he will not support the repeal of the Eighth Amendment.
Mr O'Donovan's comments come ahead of a special Cabinet meeting tomorrow to make a final decision on how to proceed with the expected referendum on the Eighth Amendment.
Ministers are due to formally decide on holding a referendum tomorrow and the Taoiseach has previously promised to hold a referendum in May or June.
The Minister for Health Simon Harris is due to outline his approach to the question to be put to the people.
This would look at whether there should be a simple repeal of the amendment or whether there should be an enabling provision added to the Constitution to let the Oireachtas legislate on the issue.
Speaking on RTÉs The Week in Politics, Mr O'Donovan said he supports the holding of a referendum and while he will wait to see what is proposed, his view is that he will not support repealing the Eighth Amendment because it leaves too much uncertainty about what happens to the right conferred in the 1983 legislation.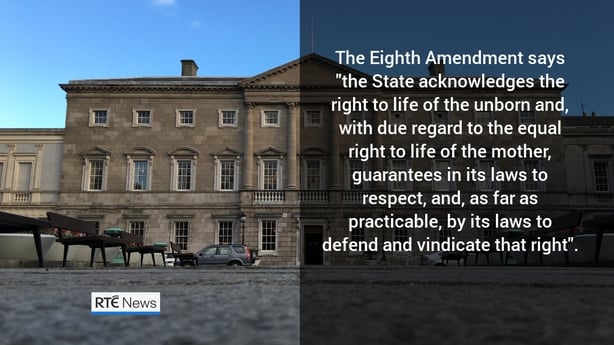 Mr O'Donovan said he expects this issue will eventually have to be determined by the Supreme Court.
The junior minister also said that they are being asked to go with a piece of legislation now but have no idea what a future Oireachtas could decide.
Meanwhile, Sinn Féin's Pearse Doherty said it will be up to the Dáil to decide what type of legislation it wants to introduce.
Speaking on the same programme, Mr Doherty said: "There's no doubt about it, I believe that the majority of people out there believe that the Eighth Amendment is something that needs to be gone."
Elsewhere, the Social Democrats are calling for the Attorney General's advice on the wording of the referendum to be published without delay.
"If the Eighth Amendment is repealed, legislation to allow for abortion in certain circumstances will be brought before the Oireachtas.
"It is imperative that there be clarity on the powers of the Oireachtas to legislate based on the decision of the people" said Catherine Murphy, the joint leader of the Social Democrats.
"The Attorney General's advice to the Government on the referendum wording should be published, and subject to rigorous analysis.
"In 1983 the Attorney General's legal advice was published in advance of the referendum. The public need to see the advice on which the Government will base their decision on this very important issue," said Ms Murphy.
Meanwhile, People Before Profit TD Bríd Smith has called on the Taoiseach and his Cabinet to opt for a simple repeal at the meeting tomorrow.
Ms Smith also urged the Taoiseach to stick to the commitment of an early referendum.