Minister for Health Simon Harris has described the behaviour of the consultants exposed in last night's RTÉ Investigates programme as "immoral, brazen and unfair".
However, he said that most doctors and consultants, and most people, that work in the health service, work well above the hours in their contracts.
The programme found a failure by the HSE and hospital managements to properly implement the 2008 Hospital Consultants' Contract across acute public hospitals.
In one case, a consultant observed for eight weeks was working less than 13 hours per week on average in the public system.
Mr Harris told the Oireachtas Health Committee that prior to last night's programme, he had asked the HSE for a more robust monitoring system.
He said he expected the HSE to formally investigate each of the cases seen on the programme.
"We cannot have a situation where people are paid for hours and don't do them," he told the meeting, adding that it would not be tolerated for nurses or other grades in the service.
In a statement, the HSE said that it expects all consultants to adhere to the requirements of their contracts.
It said that not doing so is "unacceptable and each Hospital Group is required to monitor and ensure the contracted public hours are being delivered by consultants."
However, the HSE said that the monitoring of the "public/private mix is complex".
It said: "For example, within a Hospital Group a range of services are delivered in different hospitals across the group.
"Typically, larger hospitals provide the bulk of emergency and complex care with smaller hospitals providing less complex emergency, day case and elective care. Consultants working between hospitals in the Hospital Group can fulfil their contractual public/private mix requirements in this way."
The National Director of the HSE's Acute Hospitals Division has said, by and large, consultants are hard working.
However, Liam Woods said there are a small number of consultants who are potentially in breach of their contracts.
Speaking on RTÉ's Today with Sean O'Rourke, Mr Woods said the Department of Health and the HSE have been focused on this issue for some time.
He said it was critical that the maximum amount of public work was done in public hospitals.
He also said that there are not enough consultants in the health service and this is an issue that has to be looked at in order to address the underlying problems in the health service.
Mr Woods added that consultant led and driven services are the best way to deliver services and investment in this is under way.
He said he would welcome any information RTÉ Investigates could offer about breaches of consultant contracts.
'Entirely wrong' patients were denied services
The chair of the committee, Independent TD Dr Michael Harty, said the programme highlighted the need for reform.
He said it was a "shocking indictment of management and clinical governance" adding that it was also entirely wrong that patients were denied services.
"The public private mix is one of the greatest barriers to reform and has to be tackled," he told members.
Mr Harty also said Minister Harris had not stated that he would eliminate private practice from public hospitals, and he hoped he would not be influenced by powerful lobbies that will resist that change.
Fianna Fáil's health spokesperson Billy Kelleher called for an independent evaluation of the enforcement of consultants contracts, separate to the HSE.
Mr Kelleher said last night's programme highlighted the "abject failure" to ensure such contracts are enforced.
He also said the current system gave public hospitals "a perverse incentive" to put public patients on waiting lists and private patients in beds.
Sinn Féin's health spokesperson Louise O'Reilly said while it shocked and upset her to see a woman forced to sell her belongings to pay for private health care, she was not surprised by the programme.
She told the committee members that the programme showed "a natural outworking of Government policy".
However, Minister Harris said he did not come up with the existing consultants contract, and did not like the current mix of public and private in it.
He also said he wanted to see the removal of private practice from public hospitals, albeit on a phased basis.
Mr Harris also rejected criticism from Dr Harty of the pace of progress on the Sláintecare report.
"In terms of vested interests and equity ... I want to assure you of my commitment to delivering the plan," Mr Harris said.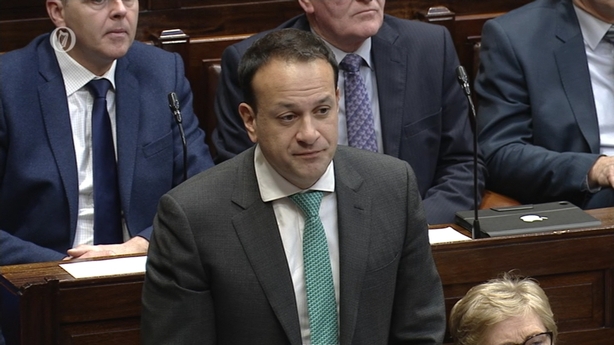 Meanwhile, the Taoiseach has told the Dáil that there is a perverse incentive for public hospitals to treat private patients.
Leo Varadkar also said it would not be a huge imposition to ask consultants to clock in, so at least it would be known when they are working in the public hospitals.
He said he was not surprised by the RTÉ programme, as there was anecdotal evidence of a minority of consultants not fulfilling the public hours they are paid do, which he described as "deeply offensive".
Mr Varadkar was responding to questions from Independent TD Michael Healy Rae, who said it was clear that the HSE was dysfunctional.
He said waiting times are being reduced as a result of the funding allocated to the National Treatment Purchase Fund.