A new opinion poll shows Fine Gael and Fianna Fáil continuing to make gains at the expense of other parties.
The Sunday Times/Behaviour and Attitudes poll of almost 1,000 voters was conducted between 26 October and 7 November last.
Compared to the last similar poll in October, the findings show Fine Gael up three points to 34% while Fianna Fáil is up four points to 31%.
Sinn Féin is down five points to 14%.
Independents are down four points at 8% while there is no change for the Independent Alliance at 3%.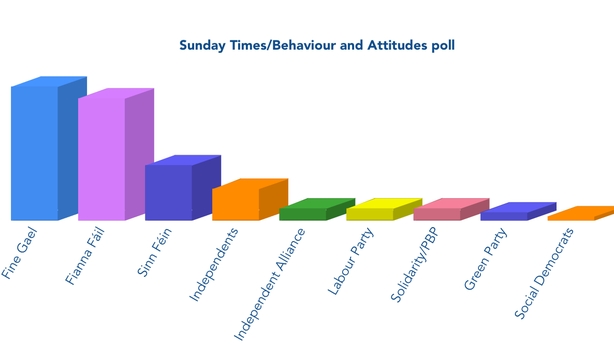 The Labour Party is down one point at 3% while Solidarity/People Before Profit are up two points at 3%.
There is no change for the Social Democrats at 1% or the Green Party at 2%.
The poll comes as Leo Varadkar's first Fine Gael conference as Taoiseach came to a close in Cavan this weekend.
The fieldwork for this poll concluded on 7 November a few days after controversy erupted over a proposed visit by three ministers of the Independent Alliance to North Korea.
The poll would not have captured the fall-out from the subsequent row involving Alliance Minister John Halligan over his remarks to a female candidate in a job interview.
The margin of error for the poll is plus or minus 3.3%.