Minister for Foreign Affairs Simon Coveney has said it is hoped that what he described as "the heavy lifting" in the talks to restore power-sharing in Northern Ireland would be done by tomorrow evening.
Mr Coveney is leading the talks alongside Northern Ireland Secretary James Brokenshire and said: 
"There are some big political issues to be addressed this evening.
"If we are going to get that done, both parties need to be willing to move towards each other's position to try to accommodate each other."
He added: "There are political choices to be made."
Earlier, DUP leader Arlene Foster met Sinn Féin and discussed the extra £1 billion funding package for the North agreed with the Conservative Party in London this morning.
The funding is part of a deal struck with the DUP and the Conservatives for supporting a minority government at Westminster.
Sinn Féin leader Gerry Adams said both the DUP and the British government needed to deliver on their commitment to the Good Friday Agreement for power-sharing to be restored ahead of Thursday's deadline.
He also said power-sharing at Stormont is the only fair way to distribute money from the DUP's deal, which includes new funding for infrastructure and health spending, along with enhanced flexibility on almost £500 million of previously allocated cash.
If negotiators miss the deadline, they face the prospect of direct rule being reimposed from Westminster after months of talks failed to break the impasse.
Mr Adams said any extra money for Northern Ireland is a good thing, adding: "We may be able to say well done Arlene, when we have the Executive in place."
Mrs Foster led a DUP delegation into talks at 10 Downing Street with the Tories just after 10.30am and the deal was announced soon after.
Speaking outside Downing Street, she welcomed the financial support of £1bn over two years for Northern Ireland, as well as "new flexibility" in almost £500m already committed to the North.
"Our aim in these negotiations has been to deliver for all of the people of Northern Ireland," she said.
"And the support measures which we are announcing will be to the benefit of all our people."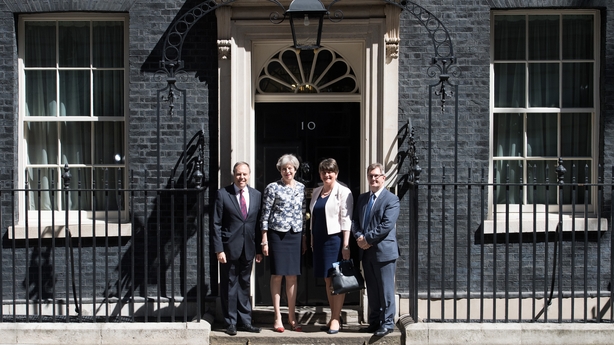 She added: "In terms of the Northern Ireland Executive, of course we are determined to see it back in place as soon as possible as well, because we believe we need a strong voice for Northern Ireland when dealing not least with the Brexit issue."
"Now, more than ever, our political leaders both locally and nationally need to work together to find solutions for all of the people we serve," added Ms Foster.
DUP leader Arlene Foster says Northern Ireland will receive an extra £1bn over two years as part of deal with the Conservative Party pic.twitter.com/Rt9XiAf04L

— RTÉ News (@rtenews) June 26, 2017
Mrs May said the DUP and the Tories "share many values" and the agreement was "a very good one".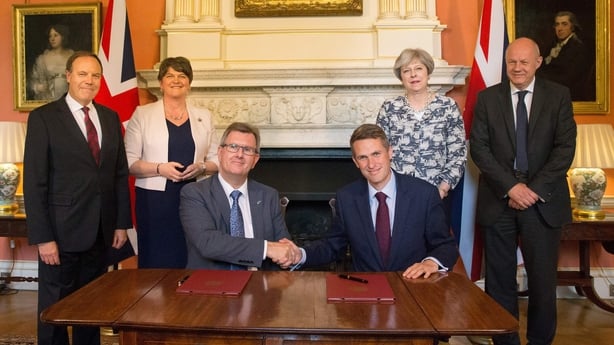 In a statement, Mrs May said the deal reached with the DUP was a "confidence and supply agreement", under which the DUP undertakes to support the Conservative government on votes on the queen's speech, the budget, and legislation relating to Brexit and national security.
"The agreement makes clear that we remain steadfast to our commitments as set out in the Belfast Agreement and its successors, and in governing in the interests of all parts of the community in Northern Ireland," said Mrs May.
"I welcome this agreement, which will enable us to work together in the interests of the whole United Kingdom, give us the certainty we require as we embark on our departure from the European Union, and help us build a stronger and fairer society at home."
On Northern Ireland, Mrs May added: "Time is running short for the parties to come together and reach agreement to re-establish a power-sharing Executive by June 29.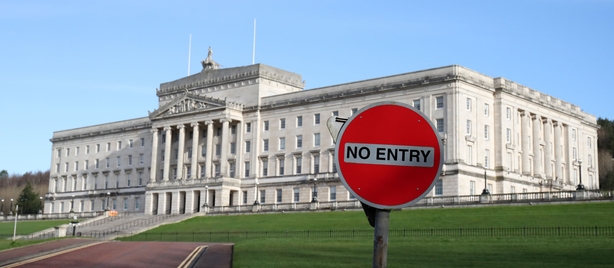 "I hope the parties will look beyond their differences and come together with a shared sense of common purpose to serve all communities in the best interests of Northern Ireland. Northern Ireland needs a functioning devolved government at this important time.
"Her Majesty's government will continue to do everything we can to work with the parties in Northern Ireland, alongside the Irish Government, to bring back a strong voice at Stormont for a positive future for everyone in Northern Ireland."
The agreement was signed this morning by Tory chief whip Gavin Williamson and the DUP's Jeffrey Donaldson while Mrs May and Mrs Foster watched on.
Talks between the DUP and Tories dragged on for more than two weeks after Mrs May lost her majority in parliament on 8 June with a failed gamble on a snap election.
---
How the £1bn deal breaks down
£400m will be allocated over two years for infrastructure development, with a focus on delivering the York Street Interchange Project and "other priorities."
£75m per year will be used "to help provide ultra-fast broadband" for the region.
£100m per year will be spent in order to support the Stormont Executive's "delivery of its priority of health service transformation."
An additional £50m per year will be ringfenced to enable the Executive to address immediate pressures in health and education.
£20m per year will be used to tackle deprivation over five years.
Finally, £10m will be provided per year for five years to support improved mental health services. The final two are the only areas where funds will be spread over a period longer than two years.
---
The deal will allow Mrs May to pass legislation with the backing of the DUP in the 650-seat parliament, and stay in power as she attempts to negotiate Britain's exit from the European Union.
But the prime minister's position remains insecure. Her Brexit strategy is under scrutiny and her future as prime minister is the subject of public debate.
Reaction to DUP deal
Labour leader Jeremy Corbyn said the deal was "not in the national interest".
"The government must immediately answer two questions: Where is the money for the Tory-DUP deal coming from? And, will all parts of the UK receive the much-needed additional funding that Northern Ireland will get as part of the deal?
"This Tory-DUP deal is clearly not in the national interest but in May's party's interest to help her cling to power."
Scottish and Welsh leaders also reacted furiously to the deal.
Scotland's First Minister Nicola Sturgeon tweeted: "Any sense of fairness sacrificed on the altar of grubby DUP deal to let PM cling to power, & Scots Tories influence in No10 shown to be zero".
Welsh First Minister Carwyn Jones described it as "unacceptable" and a "straight bung" to prop up a "faltering" Conservative minority government.
Mr Coveney said the confidence and supply agreement is "primarily a matter" for the DUP and Conservatives.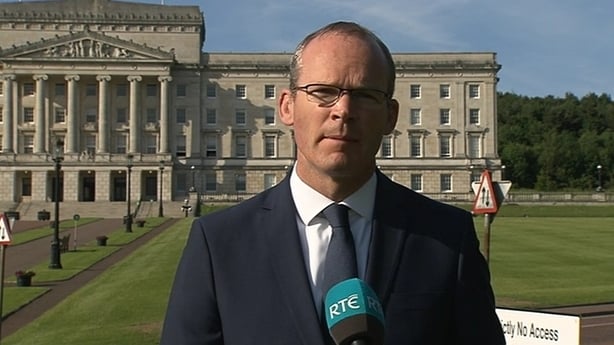 However, he added: "I note that the agreement provides for DUP support for British government legislation on Brexit.
"An enhanced Northern Ireland voice articulating an agreed devolved government position could see more effective and inclusive representation of the unique circumstances of Northern Ireland at Westminster."
He welcomed both parties' re-commitment to the Good Friday Agreement and its successors.
The minister said his focus was "a functioning Executive and Assembly", saying it was in the best interests of the people of Northern Ireland.
Earlier today, Mr Adams responded to news of the deal by saying "there is work to be done by the DUP and only limited time to do this".
"The price of today's DUP-Tory deal is DUP support for continued Tory austerity and cuts to public services."
"It provides a blank cheque for a Tory Brexit which threatens the Good Friday Agreement," he added.
On the Stormont Estate the five main Stormont parties, assisted by the Irish and British governments, are trying to work out the terms for the resumption of power-sharing.
The deadline for a Stormont deal, set by the British government, is Thursday.