The Minister for Finance has said he expects the Taoiseach will stay in place for the primary principles of EU negotiations with the UK over Brexit.
However, Michael Noonan also said he believed Enda Kenny should stay on for the second stage of negotiations, until the details of Ireland's negotiations position have been established at the end of May, early June.
Speaking on RTÉ's Six One, Mr Noonan said Mr Kenny showed how good he is in international negotiations, with his speech on immigration last week in the US.
Minister Noonan said the speech showed how diplomatic the Taoiseach can be.
"His speech on immigration has been lauded internationally and to be able to make such a strong speech in the company of President Trump, when we know his position on immigration, shows how diplomatic the Taoiseach can be," said Mr Noonan.
"So certainly for the primary principles of the negotiations, which won't conclude until end of April/early May, the Taoiseach should be in position.
"But it's my own opinion that he should stay on for the second phase as well, until the details of Ireland's negotiations position have been established and have been signed off on, and that's the end of May, early June."
Minister for Finance Michael Noonan says he believes Enda Kenny should stay on as Taoiseach for the second stage of Brexit negotiations pic.twitter.com/MSyW3SSZcg

— RTÉ News (@rtenews) March 20, 2017
Earlier, several figures in Fine Gael played down speculation that the Taoiseach may postpone his departure.
During his visit to the US for St Patrick's Day, Enda Kenny indicated he would not announce any retirement plans until political uncertainty in Northern Ireland is addressed and the EU's negotiating stance on Brexit is agreed.
He said those "immediate priorities" would take precedence over "everything else".
Minister for Housing Simon Coveney said today that he does not believe the Taoiseach's position on standing down had changed, while Fine Gael MEP Brian Hayes and Fine Gael Deputy leader James Reilly expressed similar views.
Mr Coveney said he trusted the Taoiseach to put a process in place for his departure.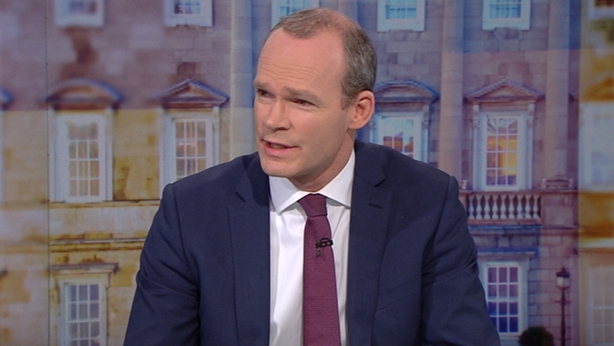 He also said a motion of no confidence in Mr Kenny as Fine Gael leader would be very unlikely and that such a motion would get no support if it was tabled.
Carlow-Kilkenny backbencher Pat Deering said there was no need for a motion because the discussion was already under way following the Taoiseach's announcement last month.
The party's deputy leader said he expects a new taoiseach to be in place by summer.
Speaking on RTÉ's Today with Sean O'Rourke, Senator Reilly said, however, that he does not necessarily expect a statement from the Taoiseach at Wednesday's parliamentary party meeting.
But he said he expects that in the next two weeks, the Taoiseach will lay out his plans very clearly.
Senator Reilly said he "has no doubt" that as the Taoiseach said, he will deal conclusively and effectively with the leadership issue.
MEP Brian Hayes said he presumes that the party will have a new leader by the first week in May.
His fellow MEP Seán Kelly said "certainty" was needed from the Taoiseach regarding his plans, but he said "whether it's immediately or within a number of weeks, that's secondary".
He "absolutely" expects Mr Kenny to address the European People's Party conference, as Taoiseach when it meets in Wicklow in May.
Meanwhile, Minister for Education Richard Bruton said he has faith that the Taoiseach will do the right thing about managing the transition to a new leader of the Fine Gael party.
Mr Bruton said he thinks the Taoiseach will decide on his own timing issues and said "it's important that the party takes this opportunity to assess the direction that we're taking".
He said it is important "to achieve continuity without causing disruption to the progress we're making".