Joan Burton has said she will make a decision on her leadership of the Labour Party after the government is formed.
The statement comes after several current and former Labour TDs called for a new leader as the party met for its first major analysis following its poor election performance.
Labour lost 26 seats in the election and now has seven TDs.
The party got only 6.6% of the vote in what some have billed as its worst ever electoral performance.
However, the meeting ended with no decision made on leadership, according to Willie Penrose.
The Longford-Westmeath TD said the meeting was a forthright and frank discussion.
He added that Alan Kelly apologised about anything that might have been seen as hurtful to the party.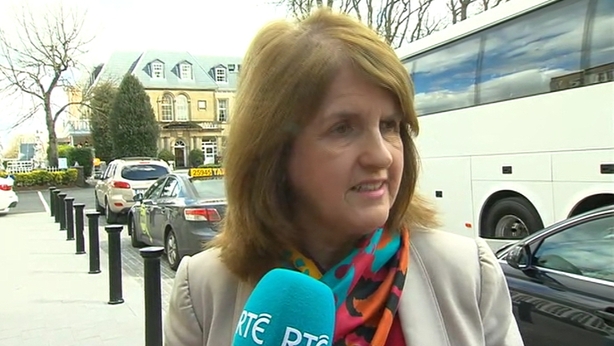 As she arrived at City West for the meeting earlier Ms Burton declined to answer questions on the leadership and said everyone could have their say at the meeting.
Two ex-Labour TDs, Michael McCarthy and Ciarán Lynch, have called for a new leader and say the question must be settled shortly. 
Both also backed Brendan Howlin for leader and say consensus should emerge so no contest needs to be held.
However, Minister for Education Jan O'Sullivan said the older generation should step aside for a new younger leader.
Mr Penrose said while a new party leader must be elected at some point over the summer months, a change in leadership will not solve any of the party's problems.
Speaking to RTÉ's News at One, Mr Penrose said the issues faced by the Labour Party were more "deep seated" than the matter of who is leader.
"We have to go back and we have to get back in contact with our electorate," he said.
Former TD John Lyons said the leadership question was one for Ms Burton but he said Mr Howlin would make a fantastic leader.
Outgoing Labour Senator Mary Moran said a new leader was absolutely needed and endorsed Mr Howlin. 
She said there is miscommunication from the leadership. 
Mr Howlin would not be drawn on the leadership and whether he would put himself forward.
Former leader Eamon Gilmore said the leadership question was one for Ms Burton and today was about what the party had to do to rebuild.
Former TD Joanna Tuffy said Ms Burton should stay on for now and there are bigger questions than the leadership and the party needed to take stock.