Support for the Labour Party has fallen to a new low in three new opinion polls released this evening.
Polls carried out for three Sunday newspapers signal a major drop in the party's popularity.
Fine Gael too has seen its support continue to slide in two of the polls, while the big winners are Sinn Féin, Independents and smaller parties.
The latest Sunday Business Post Red C Poll shows Fine Gael at 21%, down one point and Labour at 6%, down two points. This is the lowest ranking for both parties in ten years of such tracking polls.
Fianna Fáil is on 19%, up one point, and Sinn Féin is up two points to 24%.
This poll signifies the first time Sinn Féin is the most supported party in the country.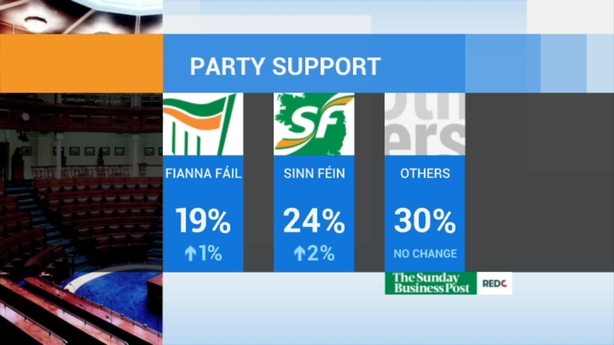 The biggest grouping remains Independents and smaller parties on 30%.
Meanwhile, the Sunday Times Behaviour and Attitudes Poll indicates similar trends.
According to this poll Fine Gael support is at 24%, down one point. Labour again is in difficulty, down four points to 5%.
Fianna Fáil on 18% is unchanged, while Sinn Féin support was measured at 22%, a three-point increase.
Independents and the smaller parties on 30% are up two points.
A third poll by Millward Brown for the Sunday Independent has Fine Gael support unchanged on 22%, while it places Labour on 5%, down two points.
Fianna Fáil is down two points according to the poll for the Sunday Independent, to 18%, and Sinn Féin is down five points to 21%.
There is a significant jump of ten points in support for Independents and others, bringing that group up to 34%.
All three polls were taken during the passage of the water bill through the Oireachtas, work that is still under way with Senators meeting again on Monday to debate it further.