An analysis of trends in mobile phone usage has found that people in mobile-first markets spend close to a third of their waking hours using their phones.
The report, from analytics firm App Annie, concluded that across the top ten markets analysed, the average user spent four hours and 48 minutes using their mobile phones every day.
This is a 30% increase from the figures reported in 2019.
The countries with the highest mobile usage were Brazil, Indonesia and South Korea, where users spent more than five hours on average on mobile apps.
Ireland was not included in the analysis. Figures for the UK show usage rose from three hours daily in 2019 to four hours last year.
Globally, the shift to mobile continues, with huge surges in mobile app downloads, particularly in developing markets.
Pakistan, Peru, Philippines, Vietnam, Indonesia and Egypt were among the fastest growing markets for downloads at 25%, 25%, 25%, 20% 15% and 15% growth last year.
The United States, meanwhile, led the way on consumer spend on mobile platforms, with $43bn in 2021, $10bn more than the previous year.
The majority of time spent on mobiles last year was on social media platforms and video apps, with seven in ten minutes on mobile spent on such services.
However, huge growth in this area did not come at the expense of previous mobile habits – rather it was due to more time spent on mobile devices overall.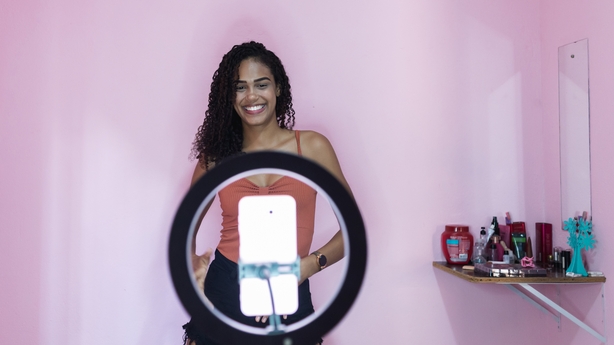 Worldwide, TikTok was the most downloaded app of 2021, followed by Instagram, Facebook, WhatsApp, and Telegram.
However, the Meta suite of apps remained the most popular in terms of usage, with Facebook leading the figures on Monthly Active Users, followed by WhatsApp, Facebook Messenger, Instagram, and Amazon. TikTok was sixth in this category.
The report also highlighted divisions by gender and age.
Figures for the United Kingdom show that for Gen Z, the top three apps for likelihood of use were Instagram, Spotify and TikTok. For Millenials, it was WhatsApp, Facebook and Facebook Messenger, while for Gen X and Baby Boomers, it was BBC News, the NHS App and BBC Weather.
In Germany, Gen Z users were most likely to use WhatsApp, Instagram and Spotify, with Facebook, Amazon and Facebook Messenger leading the way for Millennials, and older users flocking to apps related to Covid and the weather.
In the US, Facebook, Facebook Messenger and Amazon were also the most popular choices for Millennials, while Gen X and Baby Boomers favoured The Weather Channel, Amazon Alexa, and a breaking news app. For Gen Z, Instagram, TikTok and Snapchat led the way.
In terms of gender, male users in the UK were more likely to use Amazon, eBay and Twitter, while women tended towards social apps, with WhatsApp, Facebook and Facebook Messenger the top three.
A similar divide was seen in Germany, with Amazon again leading the way for men, followed by two Covid apps, while for female users WhatsApp was again the lead, followed by Facebook and Instagram.