With CAO offers out, and a new batch of first-year students about to start college, for many it means moving out of home for the first time.
Here are some helpful tips for finding somewhere to live:
1) What types of accommodation are there?
A lot of colleges offer campus accommodation, which is usually in apartment blocks with shared kitchen and living areas.
Some institutions, such as Trinity College, provide accommodation at locations that are away from the main campus site.
But if living on campus isn't for you, there are other options available.
'Digs' are available in some areas. This is where an individual or family rents out a room or rooms in their house to students. Sometimes meals are also included when living in digs.
Some students also live in private rented accommodation - either by renting a room in a mixed house with other students or by renting an entire property with friends or classmates.
2) How do I find a place to live off campus?
Most colleges or student unions provides lists of accommodation in the area, while there are also property websites online like Daft or MyHome.
Sometimes people also find accommodation through friends or acquaintances that went to the same college, or attended a nearby one.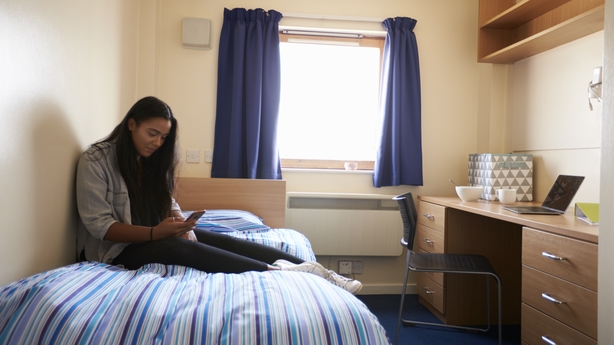 ---
Find the CAO points for your course
---
3) What should I check?
When viewing a property, you should check that all the appliances are working. Open the presses in the kitchen to see if cutlery and cooking utensils are provided, and have a look in all the wardrobes.
You should also have a look around to make sure there is no dampness or strange smells, and that the property is safe.
Make sure the front door locks and that you can get a key for your bedroom door to keep your stuff safe when you are away.
If you drive, find out if there is parking available and whether it's on or off-street and whether it has to be paid for.
If it's your first time moving out you should bring someone with you who is familiar with renting property if possible.
4) Location, Location, Location
Ideally your accommodation should be close to campus, but if that's not possible try and make sure there are some public transport links that can get you to class on time.
It's also worth checking where other local facilities, like your nearest supermarket, and bar, are.
5) What should I ask?
Ask your landlord when the rent is due each month and whether you have to pay a deposit in advance. Also find out how long the lease is for.
While most college courses run from September to May, some properties may be offered for rent with a 12-month lease.
It is also worth asking about bills in case you get any nasty surprises. In some cases some bills - like for waste removal - are included in the rent, but sometimes they aren't.
You should also find out if the property was WiFi as some college work may still be carried out remotely.