The remains of a French general killed during Napoleon's disastrous Russia campaign has returned to France - 200 years after his death.
It follows a lengthy hunt for his grave by archeologists.
Charles Etienne Gudin de la Sablonniere lost a leg during a battle near the western Russian city of Smolensk in August 1812 and died of gangrene several days later.
The 44-year-old was highly regarded by Napoleon and his name figures on the Arc de Triomphe war memorial in Paris, but the location of his grave remained a mystery until a breakthrough in 2019.
Using descriptions from the period of witnesses and other military figures who attended his funeral, archeologists located a wooden coffin in a cemetery in Smolensk containing a skeleton with a missing leg.
The remains were welcomed back by French Veterans Minister Genevieve Darrieussecq at the Bourget airport north of Paris.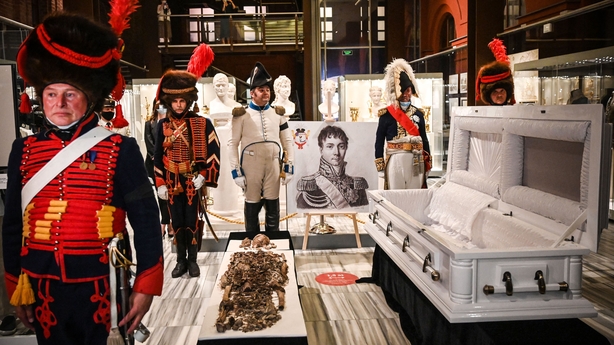 An honour guard, including volunteers wearing uniforms from the period, carried the ornate white coffin.
Mr Darrieussecq said General Gudin would be buried at the Invalides war mausoleum in Paris on 2 December to mark the 1805 battle of Napoleon's victory over Russian and Austrian armies at Austerlitz.
Pierre Malinowski is head of the Franco-Russian foundation and led the hunt.
He said that once DNA testing had confirmed the remains were those of the general he "will finally be given his spot in the Invalides," where Napoleon is also buried.
Napoleon and his Grand Army of up to 650,000 men invaded Russia on 24 June, 1812, but they were forced into a humiliating retreat after reaching Moscow.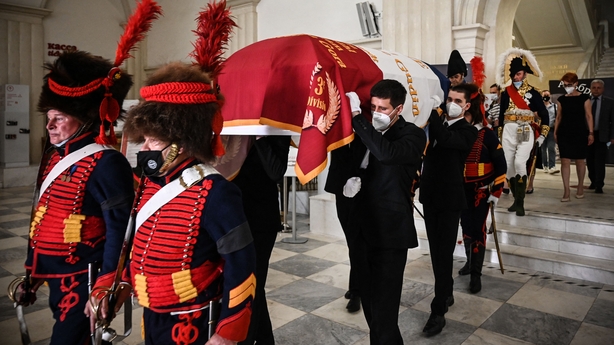 The remains of 120 French and Russian soldiers who died during the retreat in the winter of 1812 were reburied with military honours at a ceremony in the town of Vyazmain in February this year.
The remains were discovered in a mass grave by French and Russian archaeologists in 2019.