The Australian Embassy in Ireland has become the first Australian posting in the world to permanently fly the indigenous Aboriginal flag alongside the national flag.
From today, the flag is being flown outside the embassy in Dublin.
Due to Covid-19 restrictions, the embassy held a virtual flag-raising ceremony at 9am this morning to mark the occasion.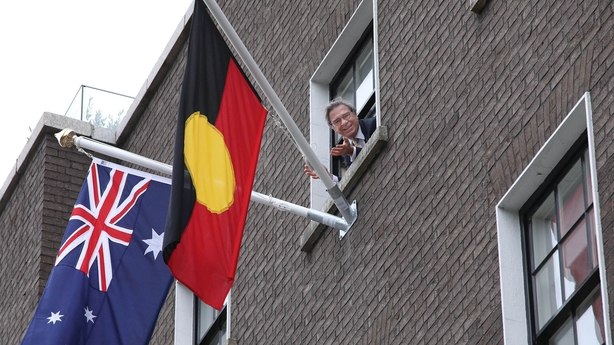 The virtual ceremony was attended by Australian Minister for Indigenous Australians, Ken Wyatt, and Connaught Rugby Star John Porch as well as pre-recorded videos from Australian Aboriginal people living in Ireland.
The flag's red lower half represents the red earth of Australia while the upper black band, emblematic of Australia's Aboriginal people, finishes the foundation for the central gold circle, symbolising the Sun.
The embassy said that the flag is being flown as a tribute to Australia's first nation people and as a celebration of their culture, heritage and historic connection to the land. 
The Aboriginal flag will now fly year-round in Dublin.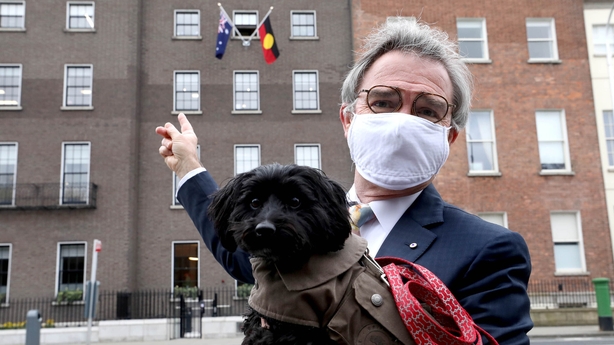 Australia's Ambassador to Ireland, Gary Gray said: "The acknowledgement of the historic and unique connection which Australian Aboriginal people have to the land and culture of our nation is utterly appropriate.
"Though the flag has been flown from buildings in Australia and on specific dates elsewhere, we believe the embassy in Dublin is the first international post to take the decision whereby the flag will fly in tandem with the Australian national flag all year round," said Mr Gray.
President Michael D Higgins sent his congratulations to the embassy.
Taoiseach Micheál Martin said the embassy has made history as the first posting to fly the flag all year round. "A fitting way to respect and represent Australia's past, present and future," he wrote on Twitter.
Good to see the @AusEmbIre in Dublin make history today as the first posting to fly the Australian Aboriginal Flag all year round, alongside the country's national flag.
A fitting way to respect and represent Australia's past, present and future. pic.twitter.com/axt3XkUoO3

— Micheál Martin (@MichealMartinTD) March 5, 2021