An exceptional low tide left Venice's famous canals almost dry, with traditional gondolas and boats effectively beached as water levels reached a peak of -48 cm, creating an unusual landscape in the lagoon city.
Venice, beloved around the world for its canals, historic architecture and art, has always lived in a fragile balance between low and high tides, that usually create variations of around 50cm in sea levels.
Flooding is a constant concern in the city built on a collection of small islands within a saltwater lagoon off the north-eastern coast of Italy, with every new incursion damaging its medieval and Renaissance palaces.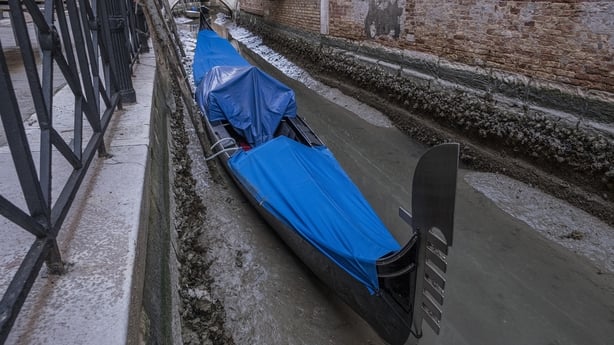 Venice's floods are caused by a combination of factors, exacerbated by climate change - from rising sea levels and unusually high tides to land subsidence that has caused the ground level of the city to sink.
We need your consent to load this YouTube contentWe use YouTube to manage extra content that can set cookies on your device and collect data about your activity. Please review their details and accept them to load the content.Manage Preferences

Last April, a biologist captured mesmerising video of a jellyfish gliding between reflections of Venetian palaces.
Andrea Mangoni, who works in Venice, told Reuters that low tide and low traffic amid Italy's coronavirus restrictions had increased water transparency and made it possible to observe marine life directly in the centre of the city, an unexpected positive side effect of the Covid-19 pandemic.