A premature baby who was smaller than a hand when she was born at 22 weeks is thriving at home in Scotland after more than four months in hospital.
Sofia Viktoria Birina weighed just 1.1lb when she was born on 2 October last year, although she was not due until 1 February.
She was given just a 10% chance of survival in labour and even less chance of surviving beyond that but became one of the youngest ever surviving premature babies in the UK and finally went home on 10 February.
Mother Egija Birina and father Inars were shocked when their daughter entered the world so early, at University Hospital Wishaw in North Lanarkshire.
"Sofia was literally the size of a hand, so fragile and small and her skin was see-through," Mrs Birina said. "I had to wait a week to hold her for the first time because she was so fragile. Once I was able to hold her, they couldn't get her out of my hands."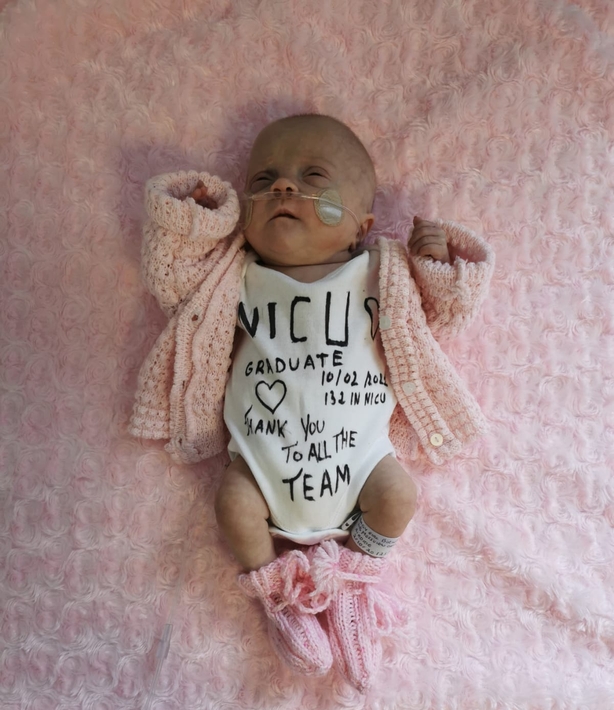 The little girl spent her first three months in an incubator and battled a range of health issues, from heart defect to stage one brain bleeds, an eye disease, retinopathy of prematurity (ROP) and numerous infections.
She needed seven blood transfusions and also had some treatment at the Royal Hospital for Children in Glasgow.
Sofia had respiratory distress symptom as her lungs were not fully developed which led to her being ventilated to help her breathe and even now she is home she has a little tube attached to give her extra oxygen.
Sofia will now have follow-up checks at the hospital for the next two years and check-ups at the lung clinic for three or four years but her mother said that "everything is moving in the right direction".
Mrs Birina, who is originally from Latvia but has lived in Airdrie for the last 12 years, said: "Sofia has been doing great since we got home. She has the biggest and most beautiful smile on her face and is getting used to her new surroundings."