A seal pup which was found to be starving on a beach in Skerries, Co Dublin has been released back into the wild.
The male grey seal pup, which was found on 15 December, was nursed back to health by volunteers from the Irish Seal Sanctuary.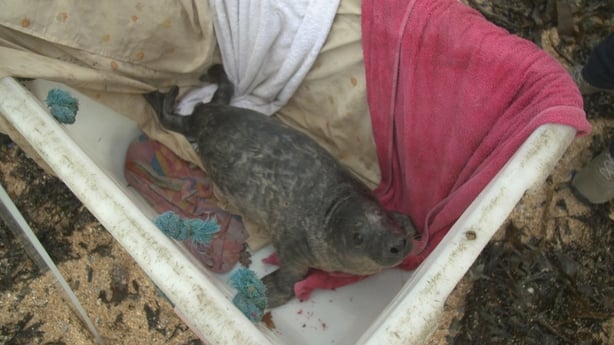 The pup, nicknamed Nollaig, was discovered and rescued by Johnny Woodlock.
"At first I actually thought it was a seal corpse but then I noticed it was breathing. It had infected bite wounds but they have cleared up. He's going fine now," he said.
The breeding period for grey seals is generally between October and February.
Once weaned, pups are left to fend for themselves.
However, due to issues like reduced fishing stocks, not every pup is able to find enough food.
There are two native seal species in Ireland, grey seals and common (or harbour) seals, and both are considered to be protected.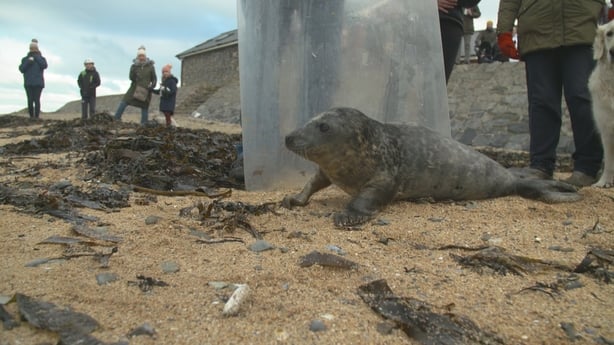 There are estimated to only be 2,500 common seals in Ireland and 5,000 grey seals.
Worldwide, there are only approximately 300,000 grey seals - which is less than the number of African elephants.
By being fed a diet including a finely blended formula of fish, Nollaig's weight increased from 9kg to 24kg over a period of under three weeks, according to Irish Seal Sanctuary founder Brendan Price.
"This little seal now has a second chance to swim out, to fish, to even go hungry while weathering storms before fishing in calm waters again," Mr Price said.