Turkish President Recep Tayyip Erdogan today rejected worldwide condemnation over Turkey's decision to convert the Byzantine-era monument Hagia Sophia back into a mosque, saying it represented his country's will to use its "sovereign rights".
The World Council of Churches, which represents 350 Christian churches, said it wrote to Mr Erdogan expressing "grief and dismay" over his decision to turn the Hagia Sophia museum back into a mosque.
"Hagia Sophia has been a place of openness, encounter and inspiration for people from all nations and religions", the Geneva-based council's interim general secretary Ioan Sauca said in the letter.
"By deciding to convert the Hagia Sophia back to a mosque you have reversed that positive sign of Turkey's openness and changed it to a sign of exclusion and division."
Mr Erdogan announced yesterday that Muslim prayers would begin on July 24 at the UNESCO World Heritage site. In the past, he has repeatedly called for the stunning building to be renamed as a mosque.
"Those who do not take a step against Islamophobia in their own countries ... attack Turkey's will to use its sovereign rights," he said today.
A magnet for tourists worldwide, the Hagia Sophia was first constructed as a cathedral in the Christian Byzantine Empire but was converted into a mosque after the Ottoman conquest of Constantinople in 1453.
Mr Erdogan's announcement came after the cancellation by a top court of a 1934 cabinet decision under modern Turkey's secularising founder Mustafa Kemal Ataturk to preserve the church-turned-mosque as a museum.
"We made this decision not looking at what others say but looking what our right is and what our nation wants, just like what we have done in Syria, in Libya and elsewhere," the Turkish leader said today.
President Erdogan said Hagia Sophia mosque will be open to Muslims, Christians and all foreigners.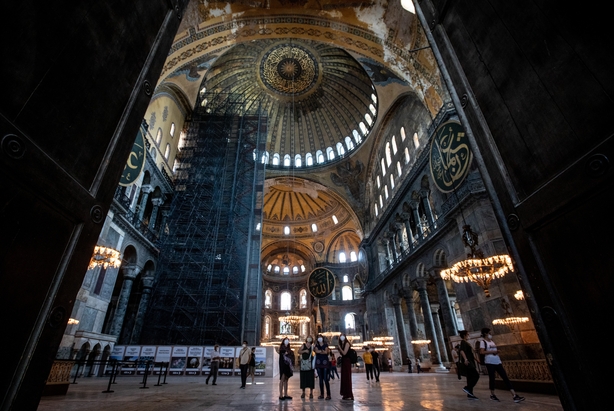 UNESCO has said on its World Heritage Committee would review Hagia Sophia's status after President Erdogan declared the Istanbul monument a mosque and that it regrets Turkey's decision to change the status of the monument.
"It is regrettable that the Turkish decision was not the subject of dialog nor notification beforehand," the United Nation's cultural body said in a statement.
The Ottomans built minarets alongside the vast domed structure, while inside they added huge calligraphic panels bearing the Arabic names of the early Muslim caliphs alongside the monument's ancient Christian iconography.
"UNESCO calls on the Turkish authorities to open a dialog without delay in order to avoid a step back from the universal value of this exceptional heritage whose preservation will be reviewed by the World Heritage Committee in its next session," it said.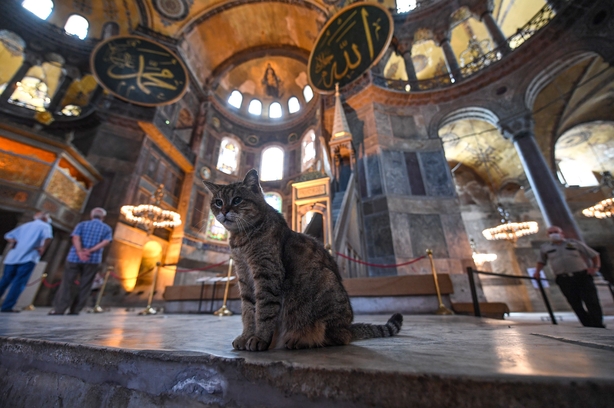 The Russian Orthodox Church said it regretted that the court did not take its concerns into account when making its ruling and said the decision could lead to even greater divisions, the TASS news agency reported.
Previously, Ecumenical Patriarch Bartholomew, the spiritual some 300 million Orthodox Christians worldwide and based in Istanbul, said converting it into a mosque would disappoint Christians and would "fracture" East and West.
The United States said Friday it was "disappointed" by Turkey's decision to turn the Byzantine-era monument back into a mosque and urged equal access for all visitors.
"We are disappointed by the decision by the government of Turkey to change the status of the Hagia Sophia," State Department spokeswoman Morgan Ortagus said.