A park in the Williamsburg neighborhood in Brooklyn has installed social distancing circles to help people enjoy the outdoors while respecting the latest coronavirus guidelines.
The circles, painted on the grass, allow picnickers and sunbathers stay a safe distance from each other.
Most of those attending the park have been respecting the circles and approved of the idea.
"I think the circles are like a creative way to try and encourage social distancing," one New York resident, Tahra, said.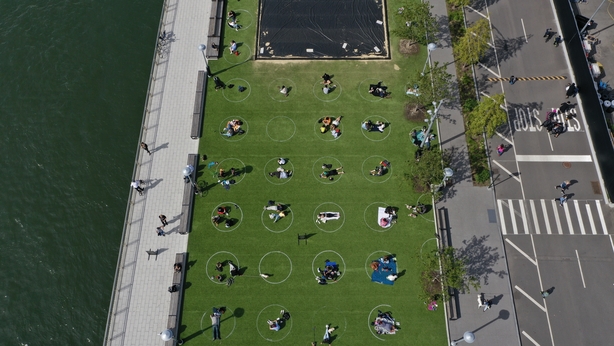 Another local, Nicholas Richards, said authorities are "striking a good balance of allowing people to enjoy the city still a little bit, which I think is a reward for good behavior but also like providing, even if it's psychological, some kind of like structure, which is good."
The New York Police Department has been giving out fines of up to $1,000 for flagrant violations of social distancing.
Critics of the policing say the fines and oversight have been unevenly applied in different socio-economic areas of New York.