A survey has found that two thirds of Irish motorists admit to using their phones while driving, while 45% admit to other distractions, such as eating or applying make-up at the wheel.
The research, conducted by Liberty Insurance Ireland and its parent company Liberty Mutual, with 992 respondents in Ireland, found that 25% of Irish drivers admit that their phone is one of the biggest distractions while driving
However, 76% said the chief distractions they face when driving are caused by the behaviour of other drivers, including the use of phones.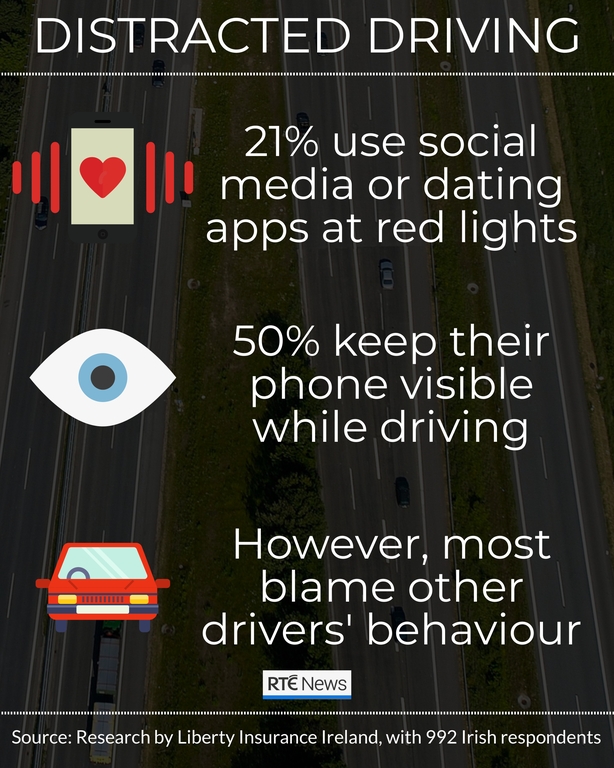 61% of Irish drivers admit to glancing at incoming texts and/or calls on their phone. That compares negatively with research from the UK, where the figure is 40%.
Irish drivers also behave badly when stopped at red lights or stop signs – with 21% admitting to using social media apps such as Facebook and Instagram, or even dating apps.
More than one-in-three say they read emails and texts when stopped.
Commenting on the research, Sean Brett of Liberty Insurance, said:
"The August Bank Holiday is one of the busiest weekends of the year on Irish roads and we urge all drivers to exercise responsibility and care when getting behind the steering wheel this weekend. 
"The Road Safety Authority has done some great work in recent years in working toward making our roads safer and the year on year reduction in road fatalities and accidents bears this out. 
"However, in parallel with its efforts in making our roads safer, we all have a personal responsibility to take greater personal ownership for our own driving habits when getting behind the wheel."